Exclusive
Atlanta Housewife Cynthia Bailey On Her Financial & Marital Woes: 'I Got Hit With The Bomb'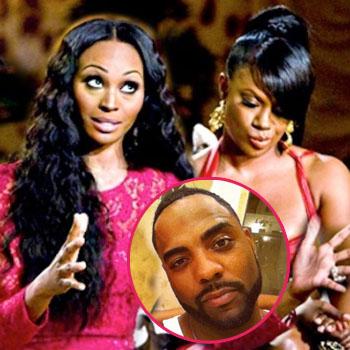 Cynthia Bailey and her husband Peter Thomas have had their fair share of ups and downs.
After Cynthia lent Peter money to start his former restaurant/lounge Uptown and the venture went under, the couple is again facing a similar situation.
Listen! 'RHOP' star Wendy Osefo breaks down the "most intense fight in the show's history" in under 2 minutes.
In a preview for the new season of The Real Housewives of Atlanta, Peter reveals to Cynthia that their new bar, Bar One, is facing foreclosure and they have to figure out how to get through this financial crisis.
Article continues below advertisement
"When Peter told me about the issues we were having at Bar One, I immediately felt deja vu: 'Here we go. We're back to Uptown,'" Cynthia told RadarOnline.com in an exclusive interview.
"Financial issues are just huge in a new marriage. We were struggling even to get married and then once I finally feel like I'm seeing the light at the end of the tunnel, I got hit with the bomb."
It was frightening for Cynthia to hear that they might lose.
"That was devastating because I'm not comfortable when things are going crazy," she admitted. "I like to have a plan and I like the plan to work. I don't want to do all those steps and then it just backfires and we're back to square one."
And Bar One's issues still haven't been resolved.
"It's still something we're dealing with," Cynthia revealed. "It's not rectified even right now."
They are trying to buy the property so that they don't lose their business.
Article continues below advertisement
"We're taking steps to try to buy the property," Cynthia explained. "We were comfortable renting it and it's a whole other set of things that come with buying, so that's where we are and I'm just hoping it works out."
But Cynthia and Peter's problems don't end at the financial frustrations that they are facing – Peter is also upset with Cynthia for spending too much time working and not enough time focusing on their marriage.
"All I do is work," Cynthia confessed.
"That's one of the other issues Peter and I are having in our own personal life is now I'm so paranoid and scared of being broke again that we even struggle for a date night."
"Peter's very frustrated with the fact that I'm just a working lunatic now," Cynthia added. "And now he feels like we never do anything together."
But, Cynthia is just trying to secure their future.
Article continues below advertisement
"I'm a lot more uncomfortable about that than he is," she said.
"He feels everything's going to be okay. My thing is, well I'm not so sure because three years ago, that wasn't the case. So it's not that I don't believe him, but I feel like I need to take steps no matter what to make sure that we are good."
While Cynthia admitted that she and Peter are "still fighting," she added that, "We have more great days than we have bad days."
It's just a matter of getting around their disagreements.
"We have this joke that the train station is here, we'll both end up there, but we both take different ways to get there," she says. "We just do not do things the same way. But on a high note, you guys have definitely seen us come full circle in the past."
And Cynthia hopes that they will be able to get past their current problems and make it for the long hall.
"We just celebrated our three year anniversary," she says. "Most people didn't even think we'd make it that long, including us. To be honest with you. I wish for the best."
But if it doesn't work out, at least Cynthia knows she and Peter gave their marriage their all.
"I'm not a psychic on what five years down the line is going to hold for us," she said. "But if we don't end up being together, I think we tried everything we could do to make it work. And if we're not together, it's just not meant to be."