Exclusive
Cynthia Bailey Reveals Troubled Friendship With NeNe Leakes, Says Of Porsha Stewart: 'We're Just Not On The Same Page'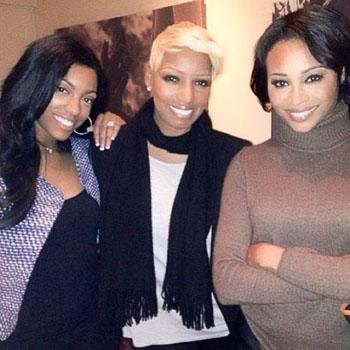 Cynthia Bailey may have served as a bridesmaid in NeNe Leakes' second wedding to Gregg Leakes, but in the new season of the Real Housewives of Atlanta, but Bailey exclusively tells RadarOnline.com that the gal pals have hit a rough patch in their friendship.
"We do go through some things this season," Baily told Radar of the upcoming season. "We don't agree on a couple different things and some other things happen that kind of cause some tension in our relationship."
Article continues below advertisement
But she still considers Leakes a good friend and says, "I'm still very close to NeNe. She's someone that I have a great relationship with on the show and also off the show, and she's definitely still my bestie."
Bailey said she's confident the two will be able to get past any issues that come up this season.
"Real friends work through stuff even if it's uncomfortable," she said.
Unfortunately for Porsha Stewart, it doesn't sound like Bailey has interest in culturing a relationship with the younger housewife.
"Porsha, even though she is in her thirties, she just acts a little younger," Bailey told Radar. "I like to have fun, but I'm busy — and as much as I want to go and just hang out, I'm just pretty busy."
It's their maturity levels that separate Bailey and Stewart.
"I kind of miss her a little bit on that," she explained. "She's finding herself. I'm trying to keep myself together, so we're just not on the same page right now in terms of that."
Article continues below advertisement
Stewart aside, Bailey says she has some new and special connections with other castmates this season.
"I definitely did connect with Kandi Burruss on a certain level," she said. "We both have young daughters. We were both kind of single parents with our young daughters for a while. Her mom is super protective. My mom is super protective."
And she understands what Burruss is going through with her engagement toTodd Tucker. Burruss' mom doesn't approve of him and Bailey's family also had a tough time accepting the fact she planned to marry her now-husband Peter Thomas three years ago.
"I totally connect on what she's dealing with: the tensions going on with her family with regards to marrying Todd," she said. "That was like my life three years ago almost. Just a little different, but same type of story."
She added, "Kandi and I definitely have a lot in common, so I definitely see our relationship evolving."
Bailey has also befriended controversial cast member Kenya Moore.
"I just have compassion for her for some of her situations she's going through," she said.
Article continues below advertisement
"When she first started coming around, she just kind of rubbed people the wrong way, but she's making some better choices this season. She's making an effort to try to be less dramatic, so we definitely connect."
In addition to all of this, sadly, Phaedra Parks is out of the housewives loop now that she is a second-time mother.
"Phaedra is in mama world over there," Bailey said. "So I only see her when I see her."
Ultimately, "I would say Kenya and Kandi would be the ones that I've become the closest to this season and of course my girl NeNe," she concluded.