Scott Disick Accuses Kim Kardashian Of Spreading Suicide Rumors, As Problems With Kourtney Worsen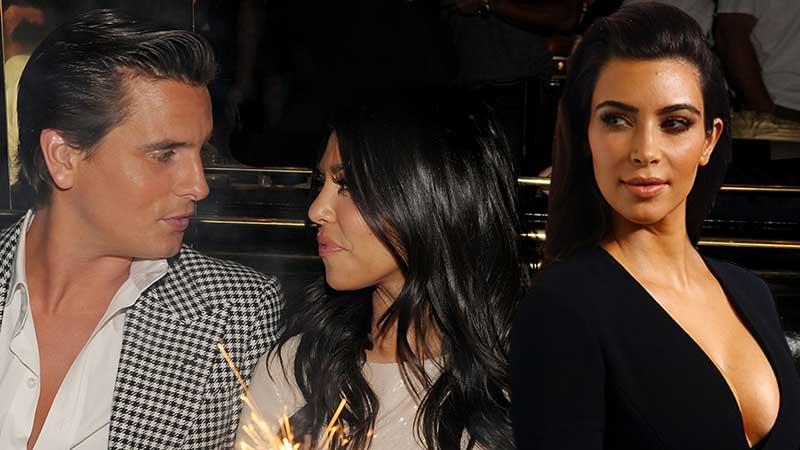 Welcome home?
Fresh out of rehab, Scott Disick had to confront Kim Kardashian, furious in believing she told "half of New York" he tried to commit suicide. And the lord of reality TV also faced Kourtney Kardashian's stone-cold reaction to his early exit from treatment on Sunday's episode of Kourtney & Khloe Take The Hamptons.
As the episode began, Kourtney got word from one of Disick's friends that he had left rehab and she feared his return to their Hamptons home, moaning, "I don't even know if I want him here."
Article continues below advertisement
The couple's relationship has been in trouble over Disick's partying and as RadarOnline.com readers know, last week's episode showed Kourtney's baby daddy checking into Mountainside Treatment Center in Connecticut to deal with his substance abuse issues.
"I don't know if I'm ready to have him back in the house. I feel like I was just starting to process Scott going to rehab and now suddenly I have to process him coming back so quickly," Kourtney told the cameras.
Sister Kim sighed about Disick, "Here we go again — same old, same old."
In a phone conversation with Khloe Kardashian, Disick explained, "I checked out of rehab because the last 24 hours was only them watching me and looking at my vitals."
Disick told the cameras he thought rehab had worked for him.
But, in chatting with Khloe, outraged Disick complained about "the fact that Kim told half of New York that I tried to commit suicide.
Article continues below advertisement
"She's the last person I probably ever want to see again."
When Khloe said he should ask Kim about it, Disick snapped, "No, I don't give a f*ck. I don't want to hear her excuse. I didn't try to commit suicide and by the way, if I did, maybe call me, maybe call your sisters….
"Now everybody's looking at me like I'm some kind of psychopath who tried to kill myself. It's too much for me to handle right now."
MORE: 15 Kris Jenner Secrets & Scandals
Making things worse, Disick told Khloe, "Kourtney's telling me she's not speaking to me."
Disick shopped for another house on his own and stayed at a hotel.
Later, Kim implied to the cameras that she had contacted Disick pal Scott Sartiano to ask about Disick's condition, and it had somehow snowballed into suicide rumors.
Kim told the cameras, "Scott is furious at me … I feel really bad and it was wrong."
Article continues below advertisement
Disick told Kim, "It was hurtful."
However, Kim told Disick everything got exaggerated.
MORE: Kim Kardashian's Style Secrets Revealed
"It felt very gossipy," Disick told her.
Kim insisted, "It really wasn't."
Kim sighed to the cameras, "I hope he understands and moves past it so I can just be supportive."
But meanwhile, Kourtney was wary of the father of her two kids (with another on the way), telling him, "I'm still really confused about what we need to do to make a change."
Disick explained to Kourtney about how he didn't leave rehab too early — as it was supposed to be a six-day program and the last day was just observation.
Watch the video on RadarOnline.com
Kourtney pressed for a serious pow-wow with him but Disick objected, "We've been doing these talks for so many years. What else are you going to say that we haven't said a thousand times before?"
Recalling their many arguments, Disick sighed, "I'm so f*cking tired of everything … are we going to spend the rest of our life doing this?"
Article continues below advertisement
Disick believed after the death of both of his parents, he had self-medicated instead of giving himself time to grieve.
Later, Kourtney finally agreed that Disick should live with the family again, but didn't want to fall back into old patterns.
She was pleased when Disick told her he'd gone to an AA meeting.
Disick admitted he would "always want to drink, which is pretty scary. I would drink right now."
In a separate Sunday night Hamptons' storyline, Kim and Jonathan Cheban visited the Jersey Shore together but their longtime friendship was threatened when she believed he was selling Kardashian family stories to the media.
Watch the video on RadarOnline.com
When Kim accused Cheban, he snapped, "You're a b*tch. That is really disgusting. Go f*ck yourself."
After Kim discovered Cheban wasn't the leak, however, the two quickly made up.
Kourtney & Khloe Take the Hamptons airs on E! Sunday at 9/8c.