Drama Before Death: Kandi Burruss' Late Mother-In-Law Sharon Had Threatened To Sue Mama Joyce For Calling Her A Prostitute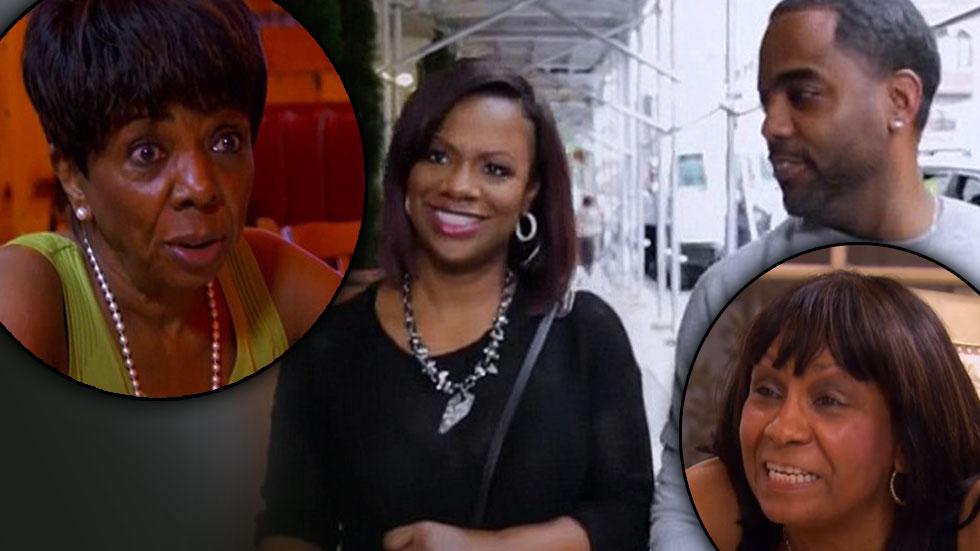 Kandi Burruss had a whole lotta mama drama on her hands on Sunday night's episode of The Real Housewives of Atlanta.
In a feud that came back from beyond the grave, Burruss' mother-in-law Sharon Wells, who died on Dec. 2, was shown (in scenes filmed before her tragic passing) threatening to sue and punch Burruss' Mama Joyce.
Still steaming about Mama Joyce having called her a "prostitute" before Burruss' wedding to Wells' son Todd Tucker earlier this year, Miss Sharon told the singer there would be serious consequences: "Tell your mother to expect something in the mail. I'm going to send a f*cking summons.
Article continues below advertisement
"I'll sue the b*tch!" she vowed during the New York dinner pow-wow with Burruss and Tucker.
As RadarOnline.com readers know, Wells had recently told us that she was outraged when Mama Joyce called her a prostitute, a charge Tucker's mom said was 100 percent NOT true.
And sadly, last week's episode recognized Tucker's mother's sudden death.
(Wells, 69, reportedly died of a stroke and Tucker sorrowfully called her his best friend.)
But Bravo didn't hesitate to air the drama just days after Wells' passing — and it was a doozy, as Wells ordered margaritas and appeared to get tipsy while having dinner with Burruss and her son in New York, where Tucker was raised.
"Slow down! I don't want you to get a DUI walking," Tucker teased her.
But soon, things got tense as Wells told him she had no plans to move to Atlanta to be close to them, specifically because of Mama Joyce.
Article continues below advertisement
As RadarOnline.com has reported, Burruss' meddling mama believed Tucker was after Kandi's money and unsuccessfully tried to stop their wedding.
And Mama Joyce also reamed Tucker's mom.
"She called me a prostitute," Wells reminded Burruss as Tucker sat by her side in the restaurant. "I ain't never been no prostitute. Check my resume. I been a lot of things but one thing I ain't never been was a prostitute or a ho!"
Burruss assured Wells SHE never said she was but Wells said she should "own" what her mother had said.
Tucker pointed out to his wife, "Your mama can't run the family … and say whatever the f*ck she want to say.
"When does this sh*t stop?"
Burruss sighed, "You can say what you want but my mama is still my mama … and I love her to death."
Tucker asked what would fix the problem and Wells replied, "She put it out there and she's gotta take it back."
Article continues below advertisement
Wells ranted to Burruss, "Your mother lied on me."
The Kandi's Wedding bride told Tucker about Mama Joyce, "I already told her that she owed your mama an apology and she already told me she's not apologizing. She feel like she's right."
At that, Wells exploded, "She feels like I'm a prostitute, well … I will punch her in the mouth when I see her!
"She gotta clear that sh*t up or deal with the consequences … 'cause I'm not scared."
Wells then threatened to sue Mama Joyce: "She ain't got the last word on this. She started it and I will end it."
Also on the episode, fans saw NeNe Leakes and Cynthia Bailey appear to make up after their previous explosive confrontation.
Leakes left the table where the other housewives were gathered.
When Leakes returned, she was crying so Burruss, Phaedra Parks, and Porsha Williams decided to leave the two alone so they could work out their issues.
Article continues below advertisement
Bailey, who also wept, then told the cameras their friendship started to break down after Leakes had called her husband Peter Thomas a b*tch.
"I tried to move on but there are certain lines that can't be crossed," Bailey told the cameras.
Bailey said she didn't feel respected by Leakes, but the star of the show, who had apologized about her Thomas comment, said she would have talked further if her frenemy had reached out.
Bailey concluded, "I just want to continue to be friends … like we used to."
Leakes asked to move forward, too, and told Bailey, hugging her, "I still love you."
But Leakes told her husband Gregg later that she didn't know if they'd ever be BFFs again.
Meanwhile, Bailey told Thomas, "I think we made up. The wall came down."
Thomas wasn't happy they were friends again, though, thinking their marriage was stronger when Leakes wasn't around!
Article continues below advertisement
Leakes told the cameras that Thomas had tweeted mean things about her and Bailey said nothing.
"He totally acts like the b-word he's been called," Leakes smirked.
Also, Bailey returned to runway modeling in a New York fashion week show for designer Kithe Brewster.
Brewster gave Bailey, who is nearing 50, the honor of closing his show but sniped, "Your a*s is huge" and by the end of the fitting, she felt insecure about her butt, her weight, and her walk.
However, her closing runway move in a red dress brought the house down.
"I'm Cynthia Bailey," she bragged afterwards, "This is my world and it feels good to be home."
The Real Housewives of Atlanta, which airs Sundays at 8/7c on Bravo.