Exclusive
'RHOA' Family Feud Escalates Between Miss Sharon And Mama Joyce: 'I'm Through With Her,' Blasts Kandi Burruss' Mother-In-Law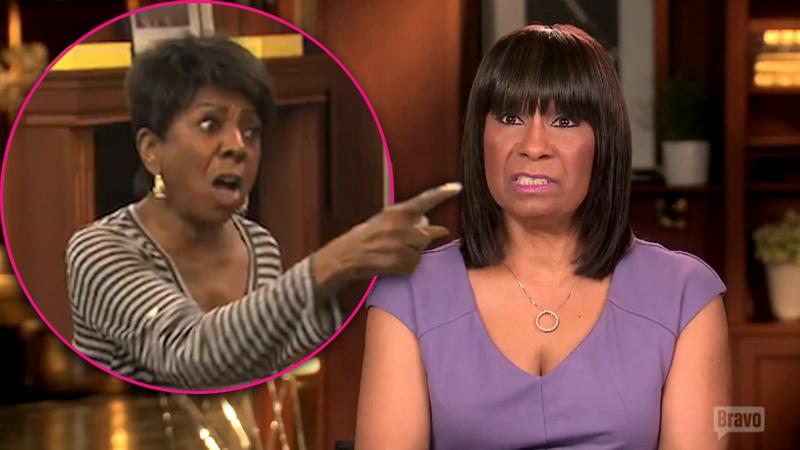 Things aren't so peachy in Georgia!
Ever since Kandi Burruss hooked up with Todd Tucker, the Real Housewives of Atlanta star's new mother-in-law, Mama Sharon, has been going toe-to-toe with her own mom, Mama Joyce.
And the recent rumors that the two matriarchs went face to face after a few fighting words from Mama Joyce, has only made matters worse!
"I refuse to stoop to Joyce's caliber; to her ignorance," Miss Sharon exclusively tells RadarOnline.com.
Article continues below advertisement
Fans of the Hotlanta franchise recall all too well how the bad blood between the two mothers came to a boil when Joyce called her new family member, Mama Sharon, a "prostitute" — and it was all caught on camera.
But Sharon says the slam is 100 percent not true.
"I have never been a prostitute, I am not a prostitute," she said. "I am 70 years old, I don't have the time to deal with people like that. It takes too much energy."
In fact, she claims she hasn't seen Joyce since Kandi and Todd's wedding in April so any reports of a fistfight are false.
"There has not been a fight, I haven't been in a fight," she insisted. "We had words before the wedding and that was it. That's when I called her a b**ch because she had been acting like a b**ch. I didn't know she called me a prostitute or else I would have addressed it."
Sharon adds that her son was also the target of Joyce's poisonous forked-tongue.
Article continues below advertisement
"She said something about Todd's deceased father and I don't think that's fair to his grandchildren and great grandchildren for her to put out lies, especially if he can't defend himself," she said, alluding to a scene that was filmed for the upcoming season that she refused to talk about. "You'll have to watch. But if it was true, so what! What business is it of hers?"
This isn't the first time Kandi's mom has taken aim at her in-laws. She's openly voiced concerns that Todd is an "opportunist" and has been ready to rumble with Sharon since their children announced they would walk down the aisle.
But Sharon has decided to quit all the drama once and for all.
"I'm through with her. I'm not going to let her drag me down," she promised.
Too bad that may be easier said than done.
"I believe that she couldn't stop the wedding, so now she's trying to keep things going between us," noted Sharon.
Still, "I'm going to bow out … I'll film, but I'm not going to entertain her feelings. It's business," she continued. "There's something either wrong with her or she's just plain ignorant."