RHOA Mama Drama! Kandi Burruss' Mom Joyce Threatens Her Fiancé Todd, Tells Him 'You're An Opportunist!'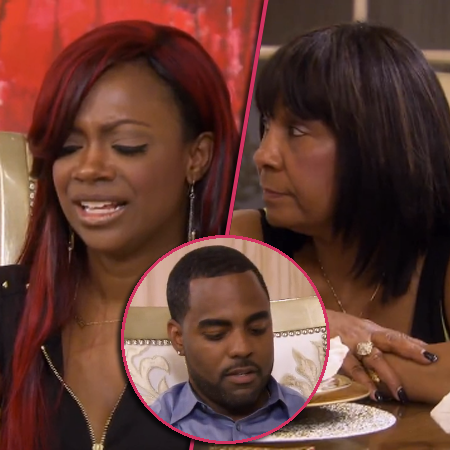 Kandi Burruss' mother Joyce unleashed her fury on the music producer's fiance, Todd Tucker, in her continuing battle against the man she doesn't think is rich enough to be with her daughter.
On Sunday night's The Real Housewives of Atlanta, mama Joyce didn't hold back during a tense dinner with Kandi and Todd.
In the most bizarre moment of the night, after Kandi left the room, Joyce started singing the Diana Ross classic "Ain't No Mountain High Enough," but added her own lyrics.
Article continues below advertisement
"Ain't no mountain high enough. Ain't no ocean deep enough. Ain't no desert hot enough to keep me off your a**, baby!" Joyce told a stunned Todd.
When Kandi asked what was going on, Joyce claimed, "We bonded!"
But nothing could be further from the truth, as Joyce has dissed Todd's lack of money--and even intimated that Kandi's friend Carmon, whom the music producer employs as an assistant, might be having a relationship with him. Kandi scoffed at Joyce's suggestion.
Then mama continued to tell Todd the engagement ring he gave Kandi wasn't good enough:
"You're thrifty. She did not pick a $30 or $40,000 ring because she knows the way you are. She stepped herself down for you," she said out of Kandi's earshot.
"Men are supposed to be the providers," Joyce told Todd during the one-on-one pow wow.
"And I do provide," Todd insisted. "I provide love, happiness, stability."
Article continues below advertisement
Mama Joyce objected, "What kind of stability?
"Hold up! Lights get cut out at the Kandi Factory. You go down to light the gas lights and say, 'I have stability?' They're not going to take that. I look at a man as a provider."
Joyce also said the prenuptial agreement situation was troubling her.
She wondered what Todd would think was fair if they wound up married only two years, and he told her he didn't know.
"I feel you're an opportunist," she said, gesturing at Kandi's lavish house.
"This house doesn't impress me," Todd said.
"I love her to death."
But Joyce said he'd have to prove it to HER.
"You know, Mama Joyce, I want to marry Kandi and it's tough, her not getting your support," Todd sighed to his potential mother-in-law.
"She was excited buying wedding books and then after awhile, she was like, 'Maybe we'll just go away, maybe we'll just leave,' and I'm like, 'No, your family means so much to you, we've gotta figure this out.' "
Article continues below advertisement
Joyce replied that their relationship was a work in progress!
Kandi wanted to work towards mom accepting their marriage, but Joyce was ominously silent as the episode ended.
As RadarOnline.com has previously reported, Todd was earlier brought to tears when Kandi told him how Joyce felt about him.
And he explained to the music producer that he had turned down work of his own to spend time with her.
Meanwhile, also on Sunday's RHOA episode, Phaedra Parks wasn't speaking to her husband Apollo Nida following his "stupidity" about exchanging texts with co-star Kenya Moore.
She found attending her mortuary school study group in Alabama to be a welcome respite from being with Apollo!
Apollo spoke to Cynthia Bailey's husband, Peter Thomas, getting advice about the Kenya situation, in which he alleges the beauty queen threw herself at him--but he turned her down.
"I said, 'If I wanted to smash her, I could have,' " Apollo graphically told Peter about his conversation with his wife.
Article continues below advertisement
Peter told him he definitely put his foot in his mouth--and needed to make amends to Phaedra!
Meanwhile, Kenya moved into a new house after the eviction drama and hoped she wouldn't have to deal with another crazy landlord.
Kenya told her stylist friend about the Phaedra problem--and another housewife's reaction to it.
"I'm growing tired of defending myself to Kandi, who claims to be neutral," she told Bravo's cameras.
And as RadarOnline.com previously previewed, Porsha Stewart went to look at a condo but concluded she wasn't ready to stop living with her mom, Diane.
Also on the episode, NeNe Leakes advised Cynthia to keep close tabs on her daughter Noelle, 13, who has her first boyfriend.
Noelle's boyfriend Arthur and her mother later visited Cynthia, Peter, and Noelle so they could all assess the situation.
After Peter played the tough stepfather, demanding Arthur call him "Mr. Thomas," the two moms agreed to pay close tabs on the puppy love!