Major Diss! Kandi Burruss' Mom Reveals She Doesn't Think 'Manipulative' Todd Tucker Is 'The Right Man' For Her Daughter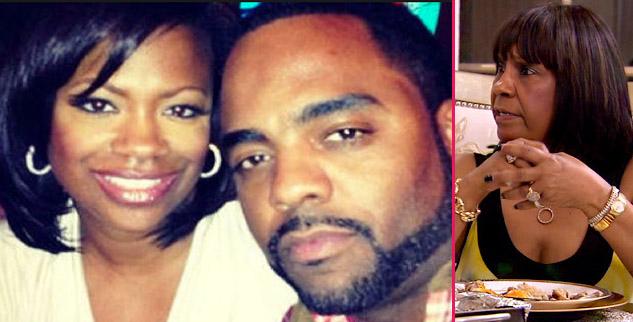 Kandi Burruss' mom Joyce doesn't like her daughter's soon-to-be husband Todd Tucker!
Opening up exclusively to RadarOnline.com, Joyce reveals why she doesn't trust the reality star and tells of how she wants nothing to do with their wedding planning.
"I'm out of it. Whatever Kandi does, it is completely her decision now. I wish her well. I just hope that this is the right choice for her," Joyce told Radar.
Article continues below advertisement
Joyce said she considers Todd an opportunist who will take Kandi's money, but she's backing down because the drama – which aired on The Real Housewives of Atlanta -- has made her physically sick.
Joyce revealed she lost sleep after The Kandi Factory star and Tucker, a reality TV line producer, got engaged.
"They have worn me down to the point where it has made me sick. I just don't feel like Todd is the right choice. I think he's manipulative… I've tried to shield my child, but I'm tired. I'm over it. I pray to God I'm wrong about him.
"If Kandi is happy, I'm happy. At the end of the day, she's the one who will have to deal with him not me," she confessed, adding that to her knowledge Kandi and Todd still haven't set a wedding date.
Joyce also opened up about Sunday's episode of the hit Bravo show.
saw Mama Joyce outraged that Kandi's assistant Carmon, whom she's accused of sleeping with Todd, was there to help with the wedding dress shopping. She objected to Carmon being at the bridal salon for what she termed a family event — and had to be held back from throwing a shoe.
Article continues below advertisement
As expected, the southern mama doesn't regret the way she acted.
"This was my daughter's wedding dress fitting. If Carmon was the friend and 'daughter' that she always wanted to be, she should have gotten up and left when I asked her," Joyce said matter-of-factly.
Joyce continued to weigh in on the drama, claiming she believes Carmon and Kandi's fiancé were fooling around at one point.
"A lot of people who worked for Kandi and I have told me that Todd and Carmon were acting like much more than friends around the house. They may have squashed the relationship for now, but I truly believe they were doing things behind Kandi's back at one point," Joyce confessed.
"I've confronted Kandi about the cheating rumors -- but she's still with Todd, so who knows. It's her choice, and I wish her well," she said.