Kandi Burruss' Fiancé Brought To Tears After Her Mom Declares He's Not Rich Enough To Be 'The One'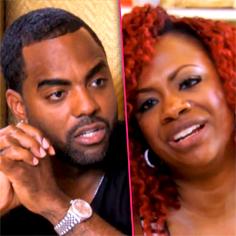 Mama Joyce doesn't think much of her daughter's future husband, Todd Tucker.
In a new preview for Real Housewives of Atlanta, Kandi Burruss confronted her fiancé and revealed that her mom thought he was an "opportunist."
"She just didn't feel like you were the one," Kandi said to Todd.
Visibly upset, Todd asked what else his future mother-in-law said.
"Well, she made a snide remark about my ring because it's not as expensive as other people's rings," she explained.
Article continues below advertisement
"This sh*t is real frustrating," said Todd, who was nearly brought to tears by the slight.
"I feel like I've given so much of myself to this relationship, and I'm just getting shot down," he added.
Kandi tried to defend her mom.
"My mom is too old to change her way of thinking," she said.
"So basically, if I become a millionaire by next year, I can buy that love?" he asked.
"She definitely wouldn't have so much of an issue," Kandi said, laughing.
Not amused, Todd fired back: "You laugh a lot about this… It's really not funny."
Again, Kandi came to her mom's defense. "In her mind, she just feels like everybody is out to get people," she said, with Todd asking if the slights will ever stop.
"I think by not dealing with it, you might lose out on a man who is good for you," he added.