Kandi Burruss Cries About Mama Joyce Haters, Says Her Mother 'Can Have Whatever She Wants'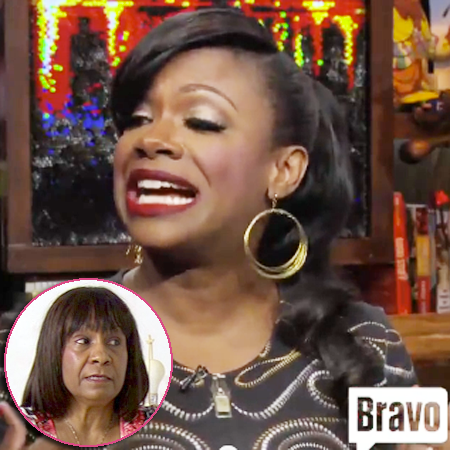 Article continues below advertisement
"She's not speaking to me right now because you and Sandra and Cynthia -- she didn't like the fact that you guys were saying that she needed me financially, whatever," Kandi complained.
"She can be fine without my help, let me just say that. But I feel like as her daughter, it's my job that she's good. She made sure I was good growing up; I'm going to make sure she's good. I don't care if she doesn't like my relationship, that's my mom."
Starting to cry on Watch What Happens Live, Kandi said, "I don't care what y'all have to say. That's my mama! I'm going to make sure my mama's good.
"She don't have to talk to me. She don't to have to say nothing to me. That's my mama and y'all can Tweet 'til you get blue in the face, I don't care! She can have whatever she wants 'cause that's my mama!"
Kandi, who was joined by her friend Fantasia Barrino on the Bravo talk show, later calmed down and added, "Don't get me wrong, I'm not agreeing with everything my mother says.
Article continues below advertisement
"Obviously we disagree on a lot of things, but it's just the fact that I'm going to be respectful in the way that I tell her. No, she's not respectful in the way she tells me how she feels, but people are like, you're making money, this and that. So what? When I became the person who made more money, it didn't make me HER mama. She's still my mama.
"I'm going to approach her in a certain way and if she doesn't like it, it's cool. I just let her cool off. I still do what I want to do, bottom line. I just hope that eventually, things will be okay. She's a little strong in how she gets her opinion across," the housewife said.
However, Kandi admitted to a Watch What Happens Live caller that she cringed when she saw Sunday night's bridal shop debacle on RHOA.
Still, certain parts "are funny to me," she smiled.
But she said, "People think that I don't tell her how I feel. I do tell her how I feel. I just don't say it an aggressive tone. Todd and I are doing great and he wants me to work out things with my mama. He wants our relationship to get better."
Article continues below advertisement
Kandi recently said that Mama Joyce seemed to turn against Todd after she saw talk show hostess Wendy Williams saying she didn't like their relationship and thought he was an opportunist.
"Did that contribute to Mama Joyce not liking him?" Cohen asked.
Kandi replied, "I can't pinpoint what it was but I can say that last year, every week Wendy was coming on saying negative things about my relationship with Todd and then my mom would come and, 'Yeah Wendy said.'
"Every week was 'Wendy said.' I was like, 'I don't care what Wendy said. Let's ask Wendy about HER relationship!' "
Fantasia then loyally commented, "It's not her business."
Kandi added, "I have much love for Wendy; I love what she's doing as far as how she's blowing up and everything.
"But I just don't like the fact she's so judgmental about my relationship when I think our situations are similar."
Article continues below advertisement
During the show, Kandi, Fantasia, and Cohen engaged in a competition to sing Christmas carols.
Watch the video on RadarOnline.com
And incredibly, the two singers failed miserably in remembering the words!
Later, Phaedra Parks called into the show to tell Cohen that NeNe Leakes saying on Sunday night's RHOA that Phaedra was a "head doctor" -- as in, a woman expert in oral sex, was "definitely a lie.
"First of all, she didn't know me in high school, as she's made very clear. Second of all, she did apologize for it because she said she thought it was funny but of course, it's never funny when you're making up malicious lies like that. But I do accept her apology," Phaedra said.
As viewers heard Phaedra's baby, known as "Mr. President" crying in the background, she said, "He's trying to defend his mama, too!"