Mourning & Mayhem: NeNe Rants At Cynthia, As Kandi's Late Mother-In-Law Is Remembered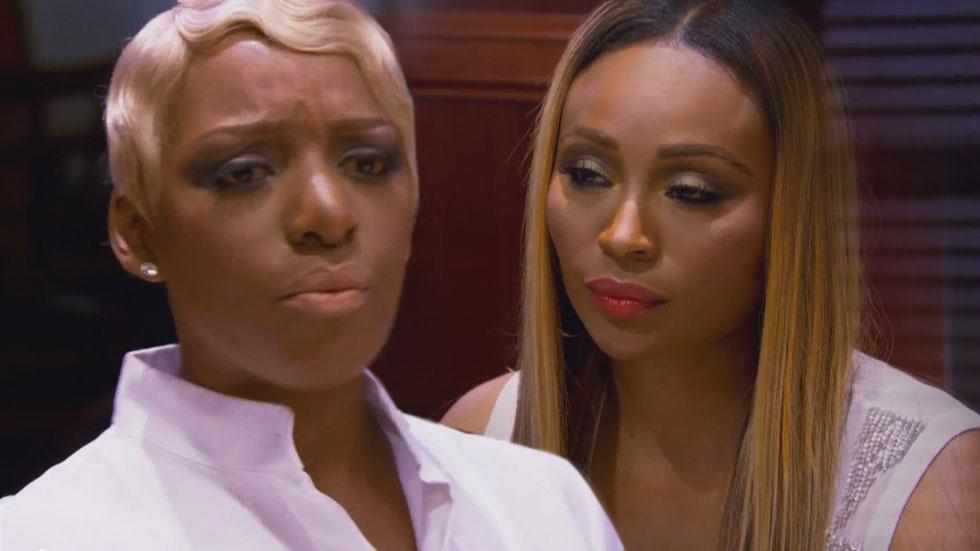 Article continues below advertisement
Wells, 69, reportedly died of a stroke on Dec. 2. She was laid to rest on Saturday.
Tucker tweeted on the day of her death that he'd lost his best friend and shared, "My heart hurts so much."
Wells had recently told RadarOnline.com that she was outraged when Mama Joyce called her a "prostitute" on the show, a charge Tucker's mom said was 100 percent NOT true.
On camera, viewers saw Wells counter by calling Mama Joyce a "b*tch" before Burruss and Todd's wedding earlier this year, unleashing a nasty confrontation.
Mama Joyce disapproved of the union and hoped to stop it, but the two married anyway and she had to accept Tucker into the family.
Sunday's episode showed Burruss telling her aunts that Wells was really sweet, but she was "still mad about my mama calling her a whore."
It was unclear how the show would deal further this season with Wells' unexpected death.
Meanwhile, Burruss tried to break up another feud on Sunday night's episode as she brought former BFFs Leakes and Bailey together to discuss their issues.
Article continues below advertisement
Watch the video on RadarOnline.com
As Radar has previously reported, with the other housewives looking on, Leakes said, "Honestly, I don't know where it went wrong" while Bailey told the cameras, "There was a process" to the eventual falling-out.
But the model implied she had soured on Leakes after the show's alpha dog acted up at Kenya Moore's charity event.
Bailey was also bugged about Leakes calling her husband Peter Thomas a "b*tch" on the show last season even though Leakes had apologized.
"You let your husband get in your head," Leakes charged, shouting at Bailey, "You know I'm a good a** friend, b*tch … you know you're wrong!"
Leakes said, "I wish you nothing the best, Cynthia! You know what? I'm the one that's dumb, not you. I'm dumb because I actually thought you was a real f*cking friend. I never thought you would take your damn friendship and throw it away in front of people who could care less about whether we were friends or not.
Article continues below advertisement
"I had your back when nobody else had your f*cking back … and I loved you like a f*cking sister."
Although Bailey didn't have much opportunity to respond to Leakes (a preview showed she will next week), the model had explained to the cameras about her frenemy, "I was raised a certain way. I know how to treat people. And it's not my fault if someone else doesn't have the tools to do the same.
MORE: The Housewives Curse! 20 Couples Whose Marriages Exploded After Going On The Bravo Show
"I owe NeNe nothing. She will never get nothing from me. I don't want to be friends with you no more 'cause you're not a good friend. That's it!"
Also on the show, Burruss and Tucker visited her old house which had been torn apart by Mama Joyce's boyfriend, who was supposed to do renovations so they could live there. But Joyce then decided not to move in.
Burruss sighed to Tucker that it looked like Mama's man had caused tens of thousands dollars worth of damage.
Article continues below advertisement
Tucker wanted his wife to hold Mama Joyce accountable for her actions.
"She said she's going to fix it so I'm going to hold her to her world," Burruss told the cameras.
Viewers also saw Phaedra Parks saying she was getting ready for husband Apollo Nida to leave for prison but "he hasn't talked to me about when he has to turn himself in.
"He's acting as if nothing's changed and he doesn't have this huge sentence hanging over his head."
Article continues below advertisement
Claudia Jordan talked to pal Moore about being biracial, as her mom is from Italy and her dad is black; she said it was difficult growing up as a product of two cultures.
The Real Housewives of Atlanta airs Sunday at 8/7c on Bravo.