Kardashian Kritic! Heckler Calls Kourtney And Khloe 'Nothing But Trash' On Visit To Fire Island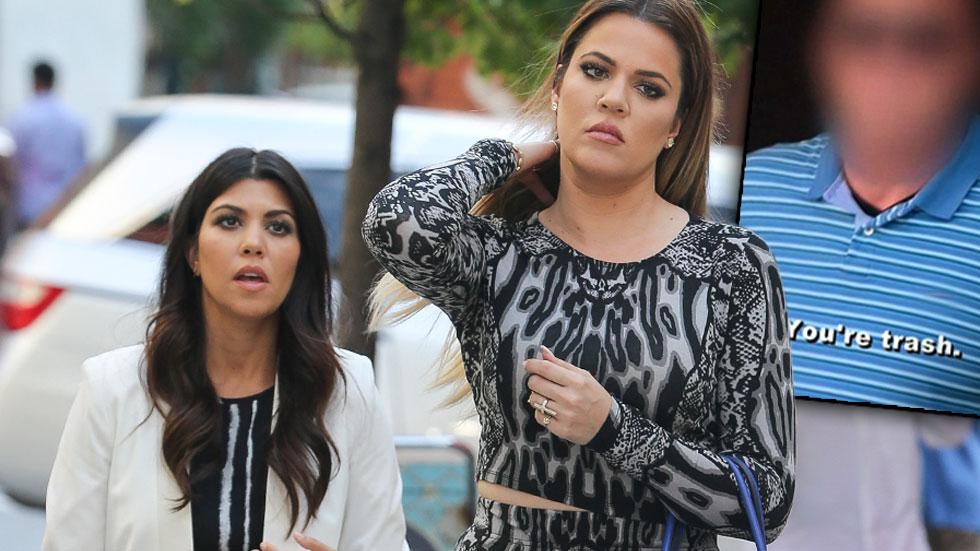 Khloe and then-pregnant Kourtney Kardashian got the shock of their lives when an old man heckled them as "nothing but trash!"
That's what went down on Sunday night's episode of Kourtney & Khloe Take the Hamptons as Kourtney, Khloe, and Scott Disick traveled to New York's Fire Island to see his grandma's house.
Rehabbed Disick was trying to reconnect with his past, but he found himself defending his baby mama and Khloe as a nasty neighbor suddenly shouted out of his upstairs window, "They're not coming here, are they?"
Article continues below advertisement
The curmudgeon then told them, "How'd they let you on the island? Nothing but trash!"
Disick fired back, "You want to come down here and suck on my ****?"
Disick told E!'s cameras, "Some random guy is basically badmouthing Kourtney and Khloe and, of course, I feel like I have no choice but to defend their honor."
The hater shouted expletives and gave the trio the finger before Disick shouted, "F*ck you, too!"
Luckily for Disick, the rest of the trip went better. The woman who was renting the house where his grandma used to live let them take a trip down memory lane there.
Disick, who had told his baby mama he wanted to leave the Hamptons and go back to Los Angeles for work opportunities, then decided to stay put.
"I don't want to miss any of these memories," he said, holding Kourtney's hand.
On the episode, they also both said, "I love you."
Article continues below advertisement
But as RadarOnline.com reported, it wasn't all rainbows and butterflies. In earlier scenes, the embattled couple was shown arguing as Kourtney, 35, nagged Disick, 31, about whether he wanted to keep his late parents' house or sell it.
It was clearly a sensitive subject for Disick.
"I feel like you keep pushing me," he complained to Kourtney about the house, which had to be cleaned out.
He told the cameras, "I'm trying to get used to the fact that I lost my parents."
The couple took a drive together to see where Disick grew up in the Hamptons, but Kourtney refused to pose for fans.
"You're a nasty f*ck, I tell you," Disick sighed.
Kourtney later told Khloe that she was worried about Disick going home to L.A. without her.
Khloe, 30, pointed out people grieve differently and referenced the death of their dad, Robert Kardashian Sr.
"How I handled dad dying and how you handled dad was two totally different things and we lost one parent and can you imagine even losing two?" Khloe asked her sister.
Article continues below advertisement
But Kourtney told viewers Disick was giving her "an excuse to try to escape" and "setting himself up for disaster," as his friends could be party animals.
Later, Kourtney invited Pastor Rich Wilkerson — who performed Kim Kardashian and Kanye West's wedding — and his wife to visit.
They were people who had a positive influence on Disick, Kourtney noted.
Kourtney and Disick told the Wilkersons about how their relationship began, as RadarOnline.com previously reported.
"I just thought he was so annoying," she recalled of Disick.
"He lived in New York. He didn't have a job."
Disick laughed, "Three kids later, still no job, still no idea where it's going."
Kourtney said in confessional that after his brief rehab stay, Disick was doing well in the Hamptons (she later told stepdad Bruce Jenner in a phone call that Disick had been sober for almost seven weeks and had stopped taking all his sleeping pills.)
Article continues below advertisement
But she wondered what would happen when he returned home because "his friends in L.A. like to go out and party… it's going to definitely be a test and I do get worried about it."
In another storyline, Bruce asked the girls to hire a friend's daughter as a DASH Hamptons' employee, but Kourtney put her to work at the house instead.
When the girl, Caroline, cleaned Disick's boat outside, he called it demeaning.
And Bruce later chided Kourtney, saying, "I think you could probably find her better work than that."
The expectant mom had to agree.