Golden Globe Mistakenly Announces Nomination For Angelina Jolie's 'Unbroken,' Then Retracts Nod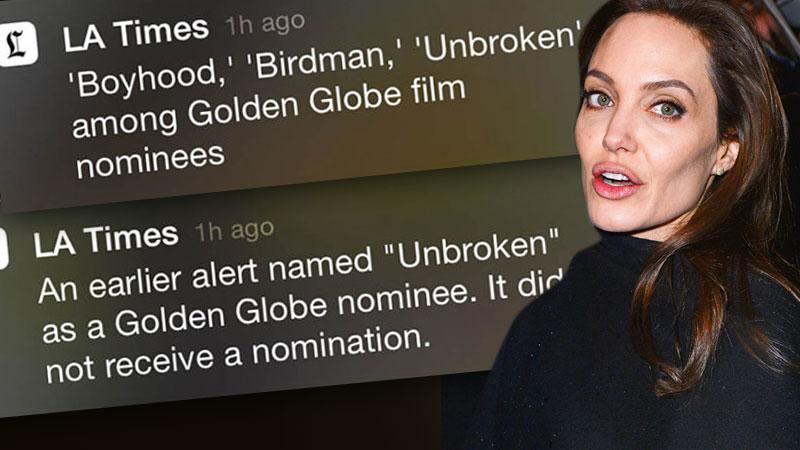 Is it safe to say Angelina Jolie's having a bad week?
Hollywood's most glamorous humanitarian has certainly received a double dose of coal in her stocking as awards season approaches: On Wednesday, the Jolie-directed Unbroken — a biopic about Olympian-turned-war prisoner Louis Zamperini — was snubbed with only a minor nomination (in the stunt ensemble category) for the Screen Actors Guild Awards.
Then, on Thursday, Jolie received zero Golden Globe bids from the Hollywood Foreign Press Association — despite that the organization accidentally sent out an alert claiming it had been. The HFPA had to sheepishly retract the announcement, clarifying that Unbroken had received no nominations. (Could this film be cursed? Don't forget, Jolie was in a car accident coming back from the screening a few weeks back.)
Article continues below advertisement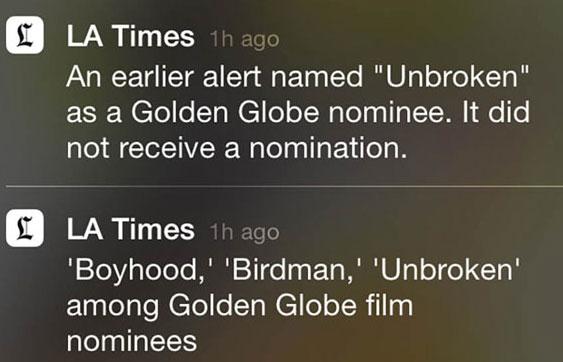 More misery for Angie: Her longtime arch-rival Jennifer Aniston did make the HFPA's cut, receiving a best actress in a drama nod for her performance in Cake; while her husband Brad Pitt was left out in the cold for his performance in Fury.
All of this comes a day after prominent Hollywood producer Scott Rudin, in emails leaked by Sony, called Jolie a "minimally talented spoiled brat" who he had "no desire to be making a movie with."
Despite the critics' indifference, Unbroken still has yet to pass its' biggest test — with moviegoers — when the film opens Christmas day.