A 'Minimally Talented Spoiled Brat': Producer Unleashes STUNNING Diss At Angelina Jolie In Jaw-Dropping Email Leak From Inside Sony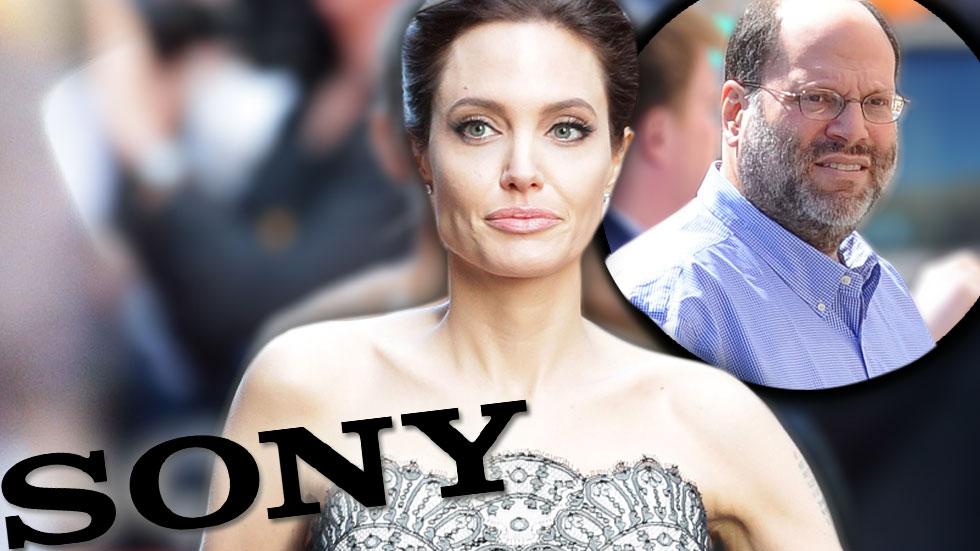 Mega-producer Scott Rudin bashes Angelina Jolie and other entertainment industry figures in the latest leak linked to a hacker attack on Sony Pictures, as testy emails Rudin exchanged with Sony co-chair Amy Pascal surfaced online Tuesday.
The emails, dated between Feb. 27 to Nov. 19 of 2014, were based on the Aaron Sorkin-written Steve Jobs biopic, Jobs, in the works.
Rudin took a shot at Jolie after Pascal asked he try to smooth things over with the actress, who was upset over Sony's desire to hire director David Fincher to direct the late Apple founder's biopic (which later moved from Sony to Universal) when she wanted him to direct her Cleopatra remake.
Article continues below advertisement
Rudin ordered Pascal, "YOU BETTER SHUT ANGIE DOWN BEFORE SHE MAKES IT VERY HARD FOR DAVID TO DO JOBS," adding he didn't "want to waste time on" the issue with Jolie, who he characterized as a "minimally talented spoiled brat."
After Pascal told Rudin not to threaten her, Rudin snapped back that the Cleopatra film would be a box office bust that would tarnish both of their reputations.
"I'm not remotely interested in presiding over a $180m ego bath that we both know will be the career-defining debacle for us both," he wrote, adding he had "no desire to be making a movie with" Jolie.
"She's a camp event and a celebrity and that's all and the last thing anybody needs is to make a giant bomb with her that any fool could see coming," Rudin wrote. "We will end up being the laughing stock of our industry and we will deserve it, which is so clearly where this is headed that I cannot believe we are still wasting our time with it."
In the tense exchange, Rudin told Pascal she'd burned too many Hollywood bridges with her behavior on the project, adding "If you don't think it's true, wait and see.
Article continues below advertisement
"Let's see the next filmmaker WME (presumably Hollywood powerhouse William Morris Endeavor Entertainment) puts in business at Sony or the next piece of star talent. I'll bet my house I'm right."
Annapurna Pictures' producer Megan Ellison also found herself in Rudin's cross-hairs, as he called her a flaky "bipolar 28-year-old lunatic" who needs to be medicated to function; Ellison later tweeted, "Bipolar 28 year old lunatic..? I always thought of myself more as eccentric."
The leak is linked to an outfit calling itself Guardians of Peace, which has been implicated in hacking into and subsequently leaking Sony's classified information, internal emails and upcoming films over the past few weeks.
Watch: Angelina Jolie and Brad Pitt kiss at the Unbroken premiere