Exclusive
Fury On The Set? Brad Pitt's Relationship With WW2 Movie Co-Star Shia LaBeouf Tanks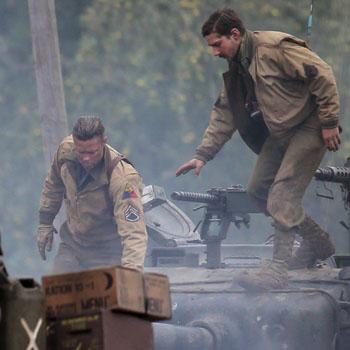 Tanks a lot!
Brad Pitt, who plays the leader of a Sherman tank crew during World War II in his new movie Fury, is not having much fun on the set--because of his strained relationship with co-star Shia LaBeouf, RadarOnline.com has learned.
"Brad and Shia haven't formed a tight friendship during the making of Fury," a source revealed of the soon-to-be-completed film.
"Brad likes to enjoy himself on a set, but Shia is an incredibly serious guy when it comes to his performances.
Article continues below advertisement
"They have very different styles of working and it's not mixing well on a personal level, which is tough because Brad and Shia met many years ago and wanted to work together. They searched a long time until they found the right project and both were enthusiastic about the World War II army thriller."
But the source added Pitt, 49, is now dismayed by the 27-year-old star's intense method acting.
They dished: "Brad is impressed by the performance Shia is turning in, but it's not helping their friendship for Brad to see how much torture Shia puts himself through to get results.
"Brad is a laid back guy who works completely differently from this kid."
It's not the first time LaBeouf has struggled with a co-star: As RadarOnline.com previously reported, Alec Baldwin dissed LaBeouf's ego earlier this year when the young actor left their Broadway play, Orphans.
Meanwhile, the source said Pitt is disappointed because he had bonded so well with his Moneyball co-star Jonah Hill, 29, three years ago.
"Brad loves to joke around with his young co-stars," the source says. "And especially on a very serious war movie, he'd love to take the edge off by kicking back between scenes. But Shia wants to stay in character the whole time."
The source expected Pitt to perk up when he wraps Fury -- and join his baby mama Angelina Jolie in Australia where she'll film her movie Unbroken around Christmas.