Alec Baldwin Disses Shia LaBeouf, Blames His Attitude Problem On His Young Age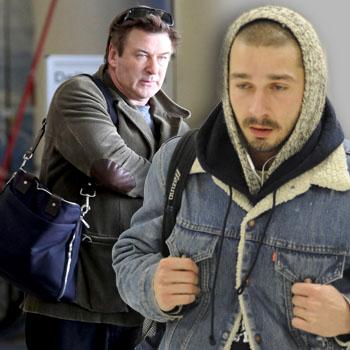 It's another round of Alec Baldwin versus Shia LaBeouf!
The 30 Rock star isn't done dissing the actor, who left their Broadway play Orphans after escalating tension between the two actors became unbearable, telling The Hollywood Reporter that the 26-year-old's age and ego were to blame for his bad behavior – and RadarOnline.com has the details.
When asked if he was thrown for a loop when LaBeouf published his e-mails on the internet, Baldwin could not deny his shock.
Article continues below advertisement
"I was, yes," he responded. "I was very surprised."
However the show must go on, and Baldwin was not that bummed when the young actor was replaced by Ben Foster.
"We ended up with the people we were meant to do the show with," he explains. "There are people often who are involved in a process who aren't meant to be involved in that process. It wasn't meant to be; he was gone. I've seen that happen before. People, on occasion, leave films, TV shows. It's unpleasant, but it's unavoidable."
Blaming it all on Shia's age, Baldwin admits that he can relate to being young and hotheaded.
"He's going through whatever he's going through. We've all been in that situation when we were younger where we want to tell everyone to go kiss off. We want to be our own man. And, I mean, I'm older now. And there does seem to be an inverse proportion to how much experience you have and how much you shoot your mouth off."