Exclusive
LaBeouf Vs Baldwin Feud Escalates! Shia Vows To 'Get Even' With Alec Over Orphans Firing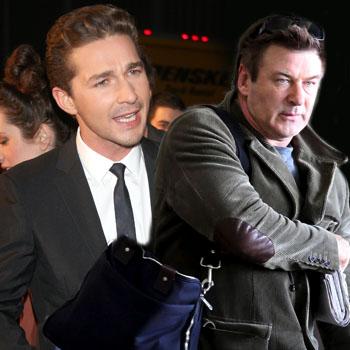 Article continues below advertisement
"Shia just can't let this one go, he's disgusted with Alec for getting him axed from Orphans," the source says.
"He would never dream of whining to a director about a co-stars' performance, which he genuinely believes Alec did.
"Shia thinks Alec told director Daniel Sullivan that he wasn't up to scratch for the role and they should seek a replacement before the play's premiere.
"He says that Alec always undermined him for his lack of theater experience, but Shia HAS done theater before and isn't just a movie star, as Alec claimed.
"Now, Shia is adamant that he doesn't want to work with Alec again, and he has vowed to get even with him. He thinks he acted unprofessionally, that he's a bully and out-of-touch with reality," the source says.
As RadarOnline.com previously reported, LaBeouf ensured he was sitting front row and center for the preview of Orphans last week – only a month after his bust-up with Baldwin.
But, Shia wasn't there for peer support - far from it – instead, he hoped his presence would unnerve Baldwin.
Article continues below advertisement
"Shia's a sly fox, he wanted to unnerve Alec by sitting in eye-view of him during the preview," a source told Radar.
"Shia still believes that the creative differences that forced him to leave the production were all Alec's fault and he holds a major grudge against him.
"They rubbed each other up the wrong way when they met. Shia considers himself a chameleon of an actor and able to play a variety of roles — whereas, he believes Alec is a one-trick pony, and can only do comedy.
EXCLUSIVE: Shia LeBeouf's Bar Fight Started With Gay Slur
"Shia would try to talk to Alec about the craft of acting but he would just look at Shia like he was a little upstart telling him what to do.
"Shia wanted to add to Alec's stage nerves and make him feel uncomfortable, which is why he was in the front row. And at one point, Alec couldn't help but stare at him sat there during his performance!" the source revealed.