EXCLUSIVE: Shia LaBeouf's Bar Fight Started With Gay Slur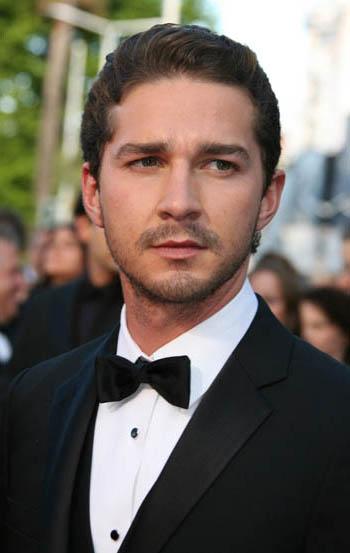 Shia LaBeouf got into a bar brawl early Saturday morning after another patron called him a "f**king fagot," RadarOnline.com is exclusively reporting.
The incident occurred at 1 am at Mad Bull's Tavern in L.A.'s Sherman Oaks district, and ended with the Transformers star in handcuffs.
Shia is a regular at Mad Bull's and eyewitness Mikey Dee tells RadarOnline.com that LeBeouf was in the popular bar with about 14 of his friends.
Article continues below advertisement
Shia and his entourage had been at the tavern for several hours when he began having words with another patron on the outdoors patio, Dee says.
"The guy was laughing at Shia and called Shia 'a f**king fagot'. Shia shot back that he was going to 'kick is f**king ass'.
"Shia then lunged but the other guy got the first punch in. He hit Shia hard in the face and split his lip.
"I saw him get hit, everyone did," Dee says. "It caught him in the mouth. He punched him good."
Just at that moment, a police officer was driving past and looking directly into the bar, Dee says. The patrolmen called for back up and "suddenly nine cop cars were there.
"They handcuffed both of them and asked Shia if he wanted to press charges. He said no.Then they asked the other guy and he said no too, so they let them go and they went on their separate ways."
Shia is in the Mad Bull's Tavern at least once a week and usually stays all night, reveals Dee, who works nearby and is a Mad Bull's regular himself.
Article continues below advertisement
"The bar staff call him the 'Unibomber' because he always comes in with his hood up, wearing a hat or glasses and a scruffy beard."
Dee calls the actor's friends a "bunch of a**holes. They are all in their early 20s and get loaded with him."
After the altercation, some of them took to Twitter to defend their pal, saying that he was jumped. "They're just trying to face face," Dee says. "He wasn't jumped.
"The last time I saw him in there was three weeks ago and he was wasted, he started a fight and it turned into a group fight with 20 people involved. I don't think the police came then. I got the hell out of there, it was nothing but trouble. Everyone was partying."
Only open six months, Mad Bull's Tavern has become a popular party place in L.A.'s San Fernando Valley. Lamar Odom, Derek Fisher and Barry Bonds have all been spotted there.
Article continues below advertisement
The Los Angeles Police Department confirmed to RadarOnline.com that their officers were on scene at Mad Bull's. "I heard was that there was a fight but everyone cleared the scene and no arrests were made," Police Service Representative Ball says.
Rosie Huntington-Whiteley's Double Duty: Screen Siren To Supermodel
LeBeouf has a history of drunken adventures. He had a DUI arrest in 2007. A year later, he was busted for being openly intoxicated in a Walgreen's drug store in Chicago, and ended up being charged with misdemeanor criminal trespassing.