The Ultimate Betrayal! Teresa Aprea Shares Rumor That Joe Giudice Cheated On Wife Teresa During 'RHONJ Secrets Revealed' Special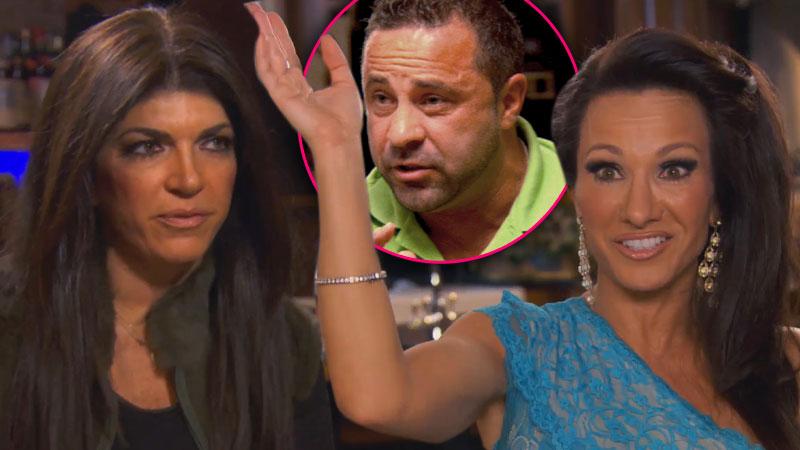 Article continues below advertisement
The episode kicked off with Dina Manzo inviting the Garden State girls to receive spiritual guidance from the Astro twins, Ophira and Tali Edut.
The twins explained to Giudice, "Saturn is the planet of structure and discipline. It's going into your legal house. You're going to be able to grow stronger from it. The beginning of 2015 is when you're going to feel the most stress from it."
Giudice was then urged to make sure her husband's legal team is doing their "best possible job."
The twins told her, "You guys are going to go through a challenge together, and that's going to set a foundation for you guys for when the relationship needs that extra backbone in 2015.
"You guys are going to be challenged as a couple, and you're going to have to be stronger than ever."
When the reality star asked if their relationship was going to make it in the end, the twins responded, "You may have to spend a little time apart or downsize a bit next year."
Article continues below advertisement
Filmed before the sentencing, the twins were spot on about the Giudice's legal team, as the Fabellini creator insisted on Watch What Happens Live that she did not understand that accepting a plea deal meant jail time, and that she hoped her lawyers would fight for her more.
She was also filmed house hunting for a smaller home to help pay off their legal bills.
Giudice said in her confessional, "It's never good to hear that you have challenges coming up, but whatever it is Joe and I, as long as we have each other, we'll get through them."
Despite their legal troubles, the Giudices celebrated their anniversary with a night away from their four children.
Giudice said in her confessional, "We're married 14 years and I feel like we just got married. He has a very healthy sex drive."
As she surprised her husband with lingerie, she explained, "Joe still gives me butterflies ... I like a lot of things about him. He could shed a few pounds, oh my God!"
MORE ON:
The Real Housewives of New Jersey
Article continues below advertisement
Despite seeming more in love than ever during the special, Aprea let slip the most scandalous secret of the episode!
The twin said in her confessional, "Joe, my friends said, 'Oh, in the past he's been a cheater and he hasn't been the best husband.'"
This isn't the first time the legally troubled reality star has been accused of cheating on his wife.
In 2012, RadarOnline.com reported that he was at TGI Fridays drinking with another woman.
He was also busted having another rendezvous in 2013 with a mystery woman at Legends Diner only 30 miles away from the New Jersey mansion he shares with his wife!
Giudice even stood by her husband when news broke that he cheated on her with their nanny, Nicole Cemelli.
Regardless of the rumors, the couple looked to be going strong on Thursday's episode.
"There are journeys in life you go through and obstacles," Giudice explained.
Article continues below advertisement
While the reality star spent time with her daughters throughout the special, Manzo bonded with her daughter Lexi Ioannou as well – at a plastic surgeon's office!
"Lexi and I are getting mother-daughter nose jobs," Manzo explained in her confessional.
Viewers then learned that Manzo's daughter actually needs a nose job. (Well, kind of.)
"Lexi doesn't necessarily want a nose job, Dina explained, "but she kind of needs one.
"It is a little bit crooked if you look at it."
Her daughter added, "I can't even breathe out of this nostril," explaining that her nose was once broken.
"She's beautiful but if it could be better, why not?" Manzo said.