Exclusive
Busted! Teresa Giudice's Husband CAUGHT ON CAMERA Having Cozy Coffee Date With Another Woman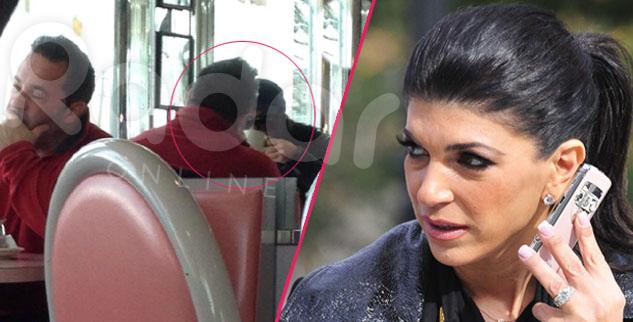 Article continues below advertisement
The unidentified woman, wearing a large hat and super sized sunglasses, was clearly attempting to hide her identity.
But the pair couldn't escape one eagle-eyed restaurant goer who snapped a shot of them together on their cell phone — the woman's face caught in the reflection of a mirror inside the eatery.
"It was DEFINITELY not Teresa," the spy-witness told RadarOnline.com, in an exclusive interview.
"She was completely disguising herself with a hat and huge sunglasses that she wouldn't take off inside. They were sitting over coffee and occasionally Joe would reach over and touch her hand while talking. They were there for a while."
This isn't the first time RadarOnline.com has busted Joe having an intimate moment with a woman other than his long-standing wife.
In 2011, Joe and another woman were snapped at a T.G.I. Fridays in Clifton, N.J., a lengthy distance from the home he shares with Teresa and their four daughters.
Article continues below advertisement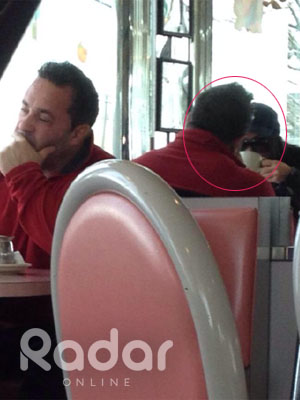 Then, an eyewitness described Joe's suspect behavior, which appears to be eerily similar to his actions at the Legends Diner.
Said that onlooker: "They were drinking martinis and when the woman finished hers, she took a sip out of Joe's glass too. They looked like they were having a good time together and laughing with each other."
What's more, the couple has also been forced to defend themselves against accusations that he cheated with their nanny Nicole Cemelli.
After that report shocked Jersey, Teresa called the story "fake" and said her husband was simply "meeting to talk business."
"We've known her and her family since she was in high school," she said.
Responding to this latest marital drama, a source close to the couple insisted to RadarOnline.com that even with this picture proof, little will change in their marriage.
"Teresa took a vow when she got married and she isn't going to divorce Joe," the insider said.