'RHONJ' Cheating Scandal: Joe Giudice Alleged Mistress Calls Teresa!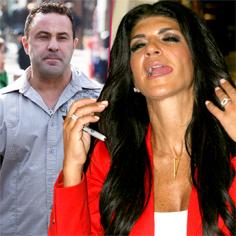 Teresa Giudice and the alleged mistress of her husband Joe are both fighting off cheating claims in the manner how you would expect Jersey women to – confrontation!
The besieged Real Housewives of New Jersey star received a telephone call from Nicole Cemelli, 26, after reports emerged that the pair had an intimate dinner date at Hurricane Club restaurant on April 22, behind-the-back of Teresa, an insider has revealed.
Article continues below advertisement
"Nicole was flipping out. She's really upset and worried," a source told Life & Style magazine.
The tense phone call followed Nicole's frantic emotions after learning a story was going to be made public about her supposed relationship with "Juicy Joe", who is facing up to 10 years in jail after he was indicted on two criminal counts in Passaic County, New Jersey, for illegally obtaining a driver's license using his brother's name.
The source close to Nicole said: "She was hysterical. Nicole comes from a very good family and does not want this out there."
Another source told In Touch: "Teresa believes Nicole would never sleep with Joe. Teresa felt sorry for her."
In a blog post, Teresa labelled the story made up and said it was "unfair and completely disgusting."
"It's not acceptable to falsely portray our friends, family, business associates, fans, and even acquaintances this way," the 41-year-old reality star wrote.
Article continues below advertisement
"The poor girl in your photo is freaking out now -- and rightfully so -- because she's getting harassing calls at her work, being stalked on the Internet and even followed."
But a source told Life & Style mother-of-four Teresa "doesn't want to acknowledge the cracks in her marriage" and is attempting to shield their children.
"Time and time again, she's said she wouldn't stay with a cheater, but now she has her pride to think about," a source said.
"If Teresa decides to end it, she's going to have to confront the fact that they (her children) may never forgive her."
The Real Housewives of New Jersey airs on Bravo Sundays at 8/7c.