Teresa Giudice Slams Joe Giudice Cheating Report, Declares Alleged Mistress Is 'One Of Our Dear Friends'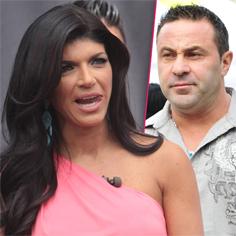 The Real Housewives of New Jersey star Teresa Giudice is quite unhappy to be dealing with a new report from Life & Style magazine that accuses her husband Joe Giudice of carrying on an affair with their former nanny, Nicole Cemeilli.
The report suggests that Joe and Nicole were pictured together on April 22 in a secluded corner booth at New York City's Hurricane Club restaurant and the pair could barely keep their hands off of each other.
Article continues below advertisement
"I hear you're trying to get to the bottom of the 'mystery girl' Joe had drinks with in April?" Teresa writes in post on her personal blog title "Dear Tabloids…"
"Here's a simple idea: show me or Joe the picture and ask us. We could have easily told you it was one of our dear friends and a former employee of both of us that Joe was meeting to talk business. We've known her and her family since she was in high school. No secret. No mystery."
Teresa told the magazine that she knew about Joe and Nicole meeting on April 22 and that it was just a typical business meal. To drive home the fact that their meal wasn't a big deal, Teresa says she has meetings with men all of the time and points out that these "meetings and lunches" shouldn't stir cheating accusations.
"I'm also in business meetings and lunches and dinners with people of the opposite sex," she writes. "Should I send you their photo before we go out so you're clear on that too? Or will you continue to make up stories about everyone we meet?
Article continues below advertisement
"What's unfair and completely disgusting is that you would drag every person we ever speak to into your fake stories," she says. "It's not acceptable to falsely portray our friends, family, business associates, fans, and even acquaintances this way."
And Teresa feels bad for "poor" Nicole.
"The poor girl in your photo is freaking out now, and rightfully so, because she's getting harassing calls at her work, being stalked on the Internet, and even followed," Teresa claims. "How is this even remotely legal? Oh yeah, it's not."
Now, Teresa is threatening to take legal action about these "lies."
"You know we have four daughters that are personally hurt every time you print these lies, but that doesn't seem to faze you at all," she says. "Maybe being sued for defamation finally will."