More Heartbreak For Teresa Giudice: Joe Caught Cheating Again With The Nanny, New Report Claims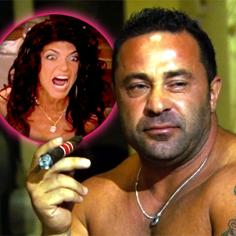 Teresa Giudice has been publicly humiliated on national television at the hands of her husband Joe Giudice , who stooped so low as to call her derogatory names and now a new report claims that he's been caught cheating on her again.
Listen! 'RHOP' star Wendy Osefo breaks down the "most intense fight in the show's history" in under 2 minutes.
The Real Housewives of New Jersey stars have had a rocky marriage, with cheating accusations plaguing them for years, and now it looks like Joe is up to no good after he was spotted with the family's former nanny with whom sources say he had a fling with while she was taking care of their four girls.
Article continues below advertisement
Joe and Nicole Cemeilli, a pretty brunette in her 20s, were spotted "getting close in a secluded corner booth at NYC's Hurricane Club restaurant," according to Life & Style magazine and a photograph was snapped of the pair on April 22 of this year.
Teresa quickly denied that the meeting was romantic when shown the picture, saying that she recognized the woman, but had an easy explanation.
"That's Joe's old secretary, who works in the city. He was in the city that day for other business meetings and he had met up with her after, to go over some things."
However, sources said the relationship isn't just an innocent lunch in the city and Joe and Nicole could barely keep their hands off each other when she worked for them, and they did it in front of Teresa.
Once, at a housewarming party at the Giudice's New Jersey mansion, guests walked in on Joe and Nicole, the magazine reported.
"At first, Teresa was in total denial," a friend of the family said. "But another time, Nicole kissed Joe on the lips when she was in the room! Eventually, enough things were brought to her attention that she finally had to do something about it."
Article continues below advertisement
As RadarOnline.com exclusively reported, Joe was caught at a TGIF's in 2011 in Clifton, N.J. getting close to Davana Medina, another report the family dismissed.
Nanny Nicole was reportedly fired by the summer of 2010, but she and Joe have clearly maintained a relationship.
Their affair was even referenced on the season four reunion of RHONJ when Jacqueline Laurita said Teresa knew about his cheating, saying "You caught him with the secretary, babysitter," and the insider says she was talking about Nicole.
Teresa is not backing down in her public support for Joe, telling the magazine "I don't want to defend my husband because there's nothing really to defend."
But Juicy Joe's wandering eye may prove to be too much for Teresa.
"I would never stay with a cheater," she said. "Trust me, I'm not that kind of a girl."
The Real Housewives of New Jersey airs on Bravo Sundays at 8/7c.