Exclusive
Marysville School Shooter Sent Chilling Texts To Friends Before Killing: 'Bang Bang I'm Dead'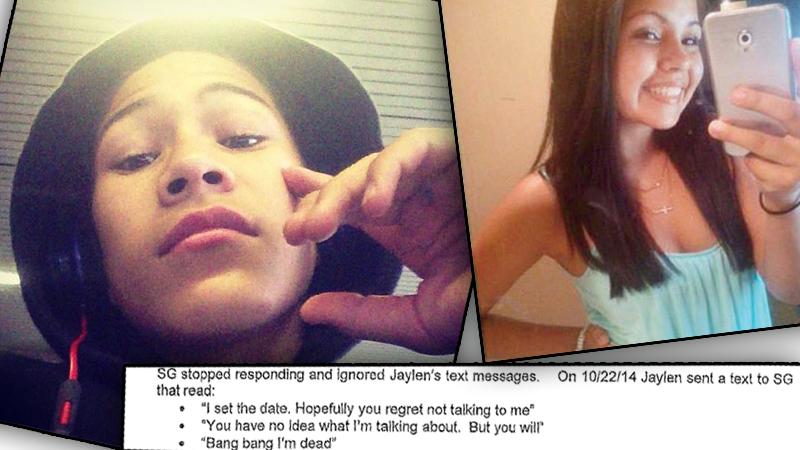 The student who killed four classmates and wounded another in Washington state last month warned his ex-girlfriend days earlier she would "regret not talking to" him. And that's just one of the chilling text messages revealed in a new search warrant affidavit obtained by RadarOnline.com.
"Bang bang I'm dead," Jaylen Fryberg, 15, wrote in an October 22 text message to Shilene George, 15 — just two days before he opened fire in Maryville Pilchuck High School's lunchroom.
Article continues below advertisement
RadarOnline.com obtained details of Fryberg's cell phone messages to friends and family discovered by detectives probing the tragic attack. It's part of an affidavit used to get a warrant to search the shooter's smart phone taken from his pocket.
READ THE SEARCH WARRANT AFFIDAVIT
The chilling messages include one titled "My Funeral Shit" sent by Fryberg to 14 family members just minutes before he started shooting, according to Everett Police Det. Andrew Williams.
"The text described in great detail which of his family and friends received his property, what he wanted to wear in his casket, and asked his family to apologize to all of his friends' families who 'get caught in this shit tomorrow,'" Det. Williams said.
Fryberg used Facebook Messenger about five minutes before the violence began to send a final warning to a friend identified only as "SJ," asking that it be passed on to George, who had stopped responding to Jaylen two days earlier, Williams said.
Article continues below advertisement
"Have (Shilene) call me before I do this," Fryberg wrote. He attached a photo of the black semiautomatic handgun "sitting between his legs," Williams said. The detective said it appeared to be the same gun he later used to kill his friends. George goes to another high school and was not present at the shooting.
Clues found in Fryberg's text message and Twitter postings offer important clues about why this young man, who was a popular and respected student, became a mass killer — with his victims being his closest friends and two cousins.
Det. Williams traces it to October 18, a day after Fryberg was crowned freshman class homecoming prince and attended a dance with most of his victims.
"On that evening, something happened between Jaylen and (Shilene) that led to an argument," he said. Although the detective is withholding details of the falling out between the two because it would identify "SG," Shilene has gone public about her relationship with Jaylen.
Article continues below advertisement
"Ohk well don't bother coming to my funeral," Fryberg said in a text to George six days before the shooting.
George stopped responded to Fryberg's texts by October 22, which appeared to make him angrier, according to his texts on that date:
"I set the date. Hopefully you regret not talking to me"
"You have no idea what I'm talking about. But you will"
"Bang bang I'm dead"
George's grief became public when she began posting messages to Fryberg on Facebook days after the shooting. One loving message disclosed an erie dream about her dead ex-boyfriend.
"Not one day, not one hour, not one minute, not even a second goes by that I don't think about you, Jay," George wrote. "I miss everything about you. Thank you for visiting me in my sleep last night. I love you more than anything, my love."