Exclusive
Bizarre: School Shooter Jaylen Fryberg's Classmates Remember Killer With Balloons, Posters & Other Tributes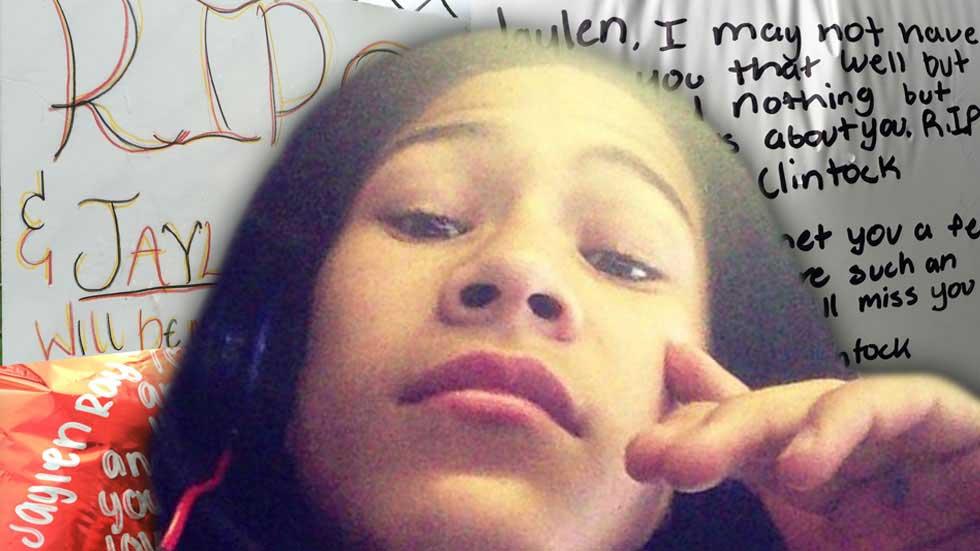 Why Jaylen Fryberg shot two cousins and three female friends in his high school's cafeteria may be the subject of rumors, but RadarOnline.com can report exclusively that many of his classmates still seem to respect him.
A makeshift memorial of balloons, posters, stuff animals, flowers and candles line the fence on the Marysville-Pilchuck High School campus. Shockingly, some of the emotional tributes placed among the notes to the victims of last Friday's tragedy are messages to the 15-year-old shooter.
Article continues below advertisement
Unlike many other school shootings after which the gunmen were vilified by classmates and portrayed as unpopular and loners, few students have publicly criticized Fryberg, who was elected freshman class Homecoming Prince just a week before he shot up the cafeteria.
"Jaylen you're an amazing kid I love you," read one message scrawled on a red Mylar balloon hanging from the fence.
"Gia you're my everything pls keep fighting for me," read the same balloon.
Sadly, Gia Soriano, 14, passed away Sunday night from her injuries. Zoe Galasso, 14, died on the cafeteria floor, while Shaylee Chuckulnaskit, 14, is listed in "very critical" condition at that hospital. Cousin Andrew Fryberg is fighting for his life at another hospital, where cousin Nate Hatch is also being treated for a serious, but non-life-threatening wounds.
Despite the carnage, a female student scribbled on and signed a white that read: "Jaylen, I may not have known you that well but I've heard nothing but great things about you. R.I.P."
Article continues below advertisement
A white poster carries a combined tribute to both killer and victim: "Zoe and Jaylen! You guys will be missed terribly!"