Exclusive
Mama June To Keep Custody Of Daughters— If Child Molester Ex Gets Lost!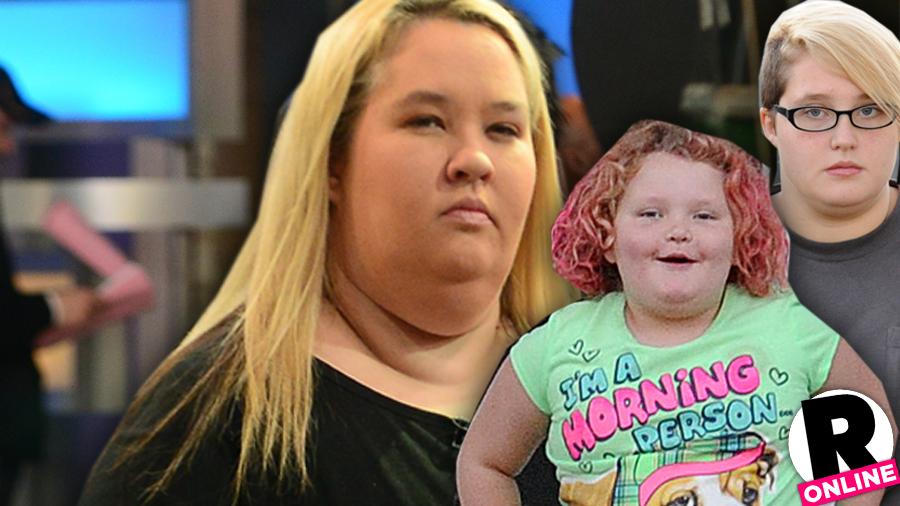 Looks like Alana "Honey Boo Boo" Thompson will remain in Mama June Shannon's custody— for now.
Child protective services have formally informed the former Here Comes Honey Boo Boo matriarch, 35, that her three minor children will remain under her roof, as long convicted child molester boyfriend Mark McDaniel stays away, RadarOnline.com is exclusively reporting.
According to insiders, Georgia social workers interviewed all three daughters, also including Jessica "Chubs" Shannon, 16, and Lauryn "Pumpkin" Shannon, 14, and came to the conclusion that no one was physically or emotionally harmed by McDaniel, 53, who plead guilty to repeatedly molesting her eldest daughter Anna Cardwell, 20, when she was just 8 years old.
Article continues below advertisement
The reality star was previously caught on camera exposing her two youngest daughters to the man who mercilessly attacked Anna in 2002, and the girls' uncle, Lee "Uncle Poodle" Thompson, 31, has claimed June took Alana, 9, and McDaniel on a getaway vacation.
But June isn't completely in the clear. Child protective services is going to leave the case open, sources tells RadarOnline.com, and if there are any further complaints, the disgraced reality star could lose her girls.
"June won't be able to claim in the future that she was unaware of Mark's disgusting crimes against Anna," a source tells RadarOnline.com.
June decided to do television interviews with Entertainment Tonight and Dr. Phil after being told by the Georgia Division of Family and Children Services that she would be allowed to maintain custody of her three daughters. But speaking out may not be a smart idea, sources tell RadarOnline.com.
Article continues below advertisement
"Social workers will also be watching Mama June's interviews to make sure there are no discrepancies in what she has told them privately," an insider reveals. "She is taking a big risk by going public now."
In a video preview to tonight's Entertainment Tonight tell-all, June swears the first time she ran into McDaniel after his ten years behind bars was a "coincidence." She also claims she's never read the shockingcourt documents RadarOnline.com exclusively revealed last month, in which a grand jury accused McDaniel of "playing videos depicting sexual acts for Anna Marie Shannon," "fondling the vagina of Anna Marie Shannon," "ejaculating on the person of Anna Marie Shannon," and sodomizing the child by placing "the sex organs of the accused" into the mouth of his victim.
"I told Anna not to bring up the past again," June tells reporter Brooke Anderson.
Should June keep custody of her daughters? Sound off in the comments.