Mama June Says TLC Cancelled 'Here Comes Honey Boo Boo' After 'Untrue' Report She's Involved With Sex Predator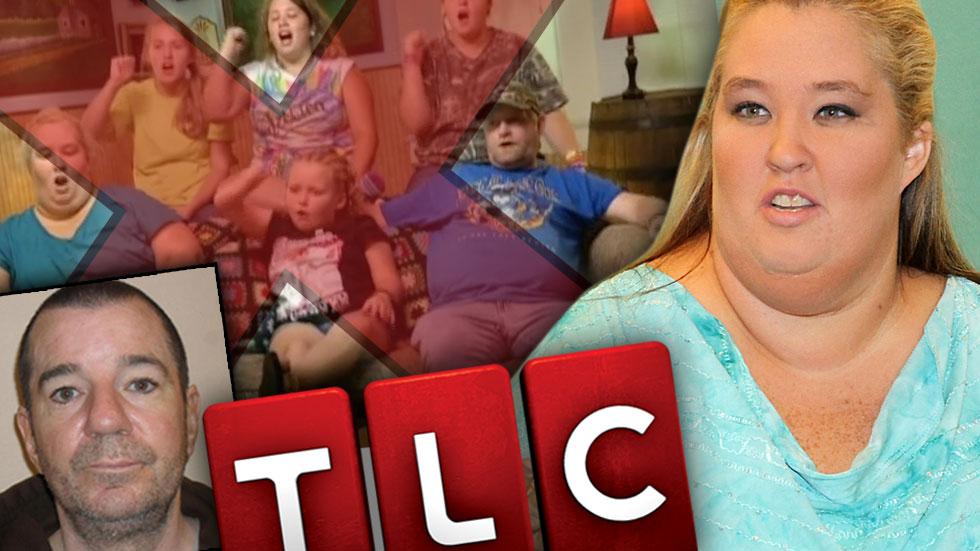 "Mama June" Shannon, in a Facebook video post Friday, confirmed that TLC cancelled Here Comes Honey Boo Boo, sticking to her story that reports she was recently romantically involved with a convicted sex offender ex-boyfriend named Mark McDaniel are "untrue."
"Just got a phone call this morning from TLC and as of right now there will be no more production of the show -- the statement of me dating a sex offender is totally untrue," Shannon said. "I would not ever, ever, ever, ever put my kids in danger, I love them too much."
Article continues below advertisement
She thanked fans for more than two years of support, adding, "TLC has kind of told us to hush-hush" about the matter.
The network wasn't staying hush-hush though, saying in a statement that "TLC has canceled the series Here Comes Honey Boo Boo and ended all activities around the series, effective immediately."
It added that "supporting the health and welfare of these remarkable children is our only priority" — and presumably, felt that airing the show in light of the recent news could be perceived as enabling a hazardous situation.
The shocking cancellation comes after Mama June denied reports she was dating the convicted pedophile, pointing to our interview with her 14-year-old daughter Lauryn "Pumpkin" Shannon in a Facebook post late Thursday.
"I want to make a post trying to clear up the rumors remember you can't believe everything you read!" she wrote, linking to our exclusive interview.
She added that news of her rekindled romance with McDaniel — who was indicted in June 2003 for molesting one of her 8-year-old relatives — "isn't true.
Article continues below advertisement
"I promise my kids are #1 priority over anything else and I would never put them in danger period over this or anything else," the 35-year-old reality star wrote.
Immoral and Indecent acts: READ THE SHOCKING COURT DOCUMENTS
As RadarOnline.com exclusively reported, Pumpkin on Thursday said that her mother and McDaniel "haven't seen nor talked to each other in 10 years," and that Mama June is in no rush to dive back into the dating pool after last month's breakup with Mike "Sugar Bear" Thompson.
"She is all about the kids — she only needs us girls, no one else — we are all sticking together as one happy family with us four girls," Lauryn said, calling an image circulating of her mother in bed with the convicted pedophile "photoshopped."
June's daughter Anna "Chickadee" Shannon Cardwell also spoke with RadarOnline.com about the report that her mother was seeing McDaniel, saying, "I know for a fact it's not true," adding that "the person behind this, all I got to say is he or she is trying to tear the family apart, which isn't right one bit."