Exclusive
Mama June's Shame: Secret Police Report Reveals Horrific Crimes Child Molester Boyfriend Perpetrated On Daughter Anna — How Could June Let Him Back In Her Life?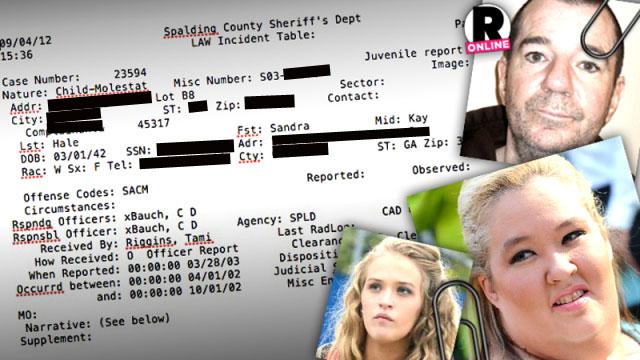 Article continues below advertisement
The appalling allegations are laid bare in a Sheriff's Office incident report from Spalding County, Georgia, obtained exclusively by RadarOnline.com. An Officer Bauch wrote in the report that Anna had told a police officer and a child services counselor in March 2003 that "she had done the 's word' with Mark."
"Anna then stated that Mark touches her private parts and sometimes he makes her touch his," the report continued. "Anna advised she tells Mark to stop, but he keeps going."
The elementary school student, who first alerted a teacher to McDaniel's shameful crimes, then went on to describe the sexual abuse in graphic detail. RadarOnline.com has chosen not to publish the exact nature of the assaults.
According to the documents, the molestation occurred multiple times between April and October 2002.
As RadarOnline.com exclusively reported, McDaniel, 53, was indicted for child molestation, aggravated child molestation and aggravated sexual battery in nearby Henry County in June 2003, but the case was soon dropped.
Article continues below advertisement
McDaniel was later indicted in Spalding County— where he and June lived in a trailer park— for rape, child molestation, aggravated child molestation, enticing a child for indecent purposes and aggravated sexual battery.
Grand jurors accused McDaniel of "playing videos depicting sexual acts for Anna Marie Shannon," "fondling the vagina of Anna Marie Shannon," "ejaculating on the person of Anna Marie Shannon," and sodomizing the child by placing "the sex organs of the accused" into the mouth of his victim.
McDaniel plead guilty to only aggravated child molestation in a plea deal, and was sentenced to ten years in prison. He was released in March 2014.
Though June's daughter Lauryn "Pumpkin" Shannon, 14, exclusively denied to RadarOnline.com that her mother had been in touch with her pervert ex since his release, new photos prove otherwise.
As we revealed, the 34-year-old mother of four, who split from longtime love Mike "Sugar Bear" Thompson, 42, in September, has been snapped appearing to house hunt with McDaniel in recent months.
Article continues below advertisement
Even more sickening, June's youngest daughter Alana "Honey Boo Boo" Thompson, 9, accompanied her mother and McDaniel on the trip. Because of her age, and the timing of McDaniel's prison stay, the photos could not have been taken before his conviction.
Stay-at-home mom Anna spoke exclusively to RadarOnline.com about her mother's betrayal on Friday.
"I believe she is seeing him and hanging around him," she said. "I'm hurt."