Exclusive
Another Victim: Mama June's Daughter Pumpkin Forced To Watch Sister's Sex Abuse At Just 3 Years Old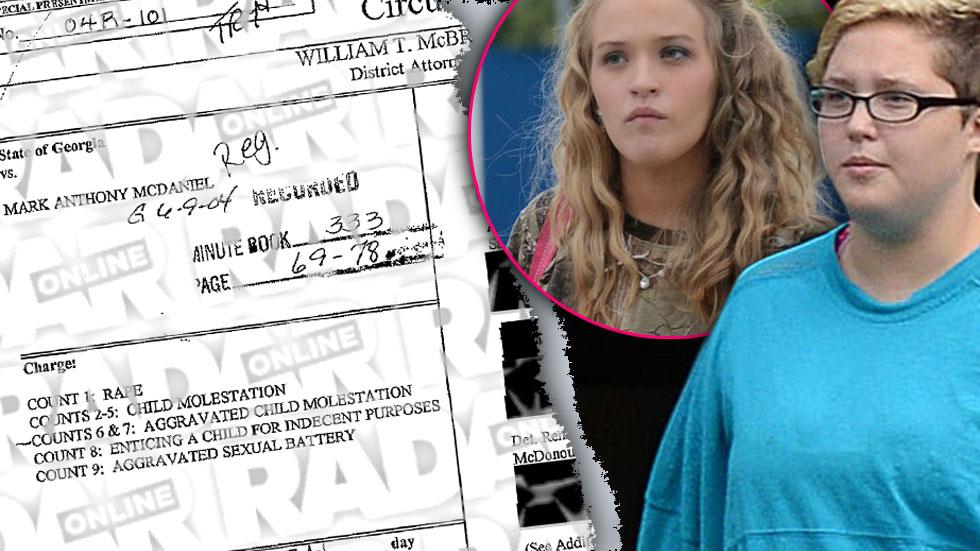 Article continues below advertisement
During an interview with police, "Anna…stated that her sister, Lauryn, is in the bed with them when this is going on," Officer Bauch wrote in the incident report. (Anna, now a 20-year-old married mom of Kaitlyn, 2, has given RadarOnline.com permission to reveal her identity as McDaniel's victim.)
READ THE SHOCKING COURT DOCUMENTS
Anna told the officer that McDaniel would molest her in June's bedroom while the young mother was at work. Though Anna's grandmother, Sandra Hale, had primary custody of the little girl at the time, Anna frequently visited June and McDaniel's Georgia trailer park home.
As RadarOnline.com previously reported, McDaniel was later indicted in Spalding County for rape, child molestation, aggravated child molestation, enticing a child for indecent purposes and aggravated sexual battery after abusing Anna repeatedly over a six-month period in 2002.
He was specifically indicted on one count of child molestation for "fondling the vagina of Anna Marie Shannon…in the presence of Lauryn Shannon, a child under the age of 16."
Article continues below advertisement
In addition, grand jurors accused McDaniel of "playing videos depicting sexual acts for Anna Marie Shannon," "ejaculating on the person of Anna Marie Shannon," and sodomizing the child by placing "the sex organs of the accused" into the mouth of his victim.
After copping a plea deal, he was sentenced to ten years in prison, and was just released in March 2014.
Lauryn, now 14, adamantly denied to RadarOnline.com that her mother was once again dating McDaniel, and even shut down reports that the former couple had interacted since his release.
"The story is not true. My mom left Mark 10 years ago," Lauryn insisted on October 23. "They haven't seen nor talked to each other in 10 years."
However, new photos have revealed that June and McDaniel shopped for homes together in recent months— and that her youngest daughter Alana "Honey Boo Boo" Thompson, 9, has also been by his side.
While Anna has told RadarOnline.com she's "hurt" by her mother's betrayal, Lauryn still appears to be living in the family's McIntyre, Georgia home, and recently slammed "false stories" on her Instagram page.
Will Lauryn follow Anna's head and turn her back on her mother, too? Sound off in the comments.