No Sympathy For Outlaws! Lisa Kudrow Says Of Prison-Bound Giudices: 'That's Why We Don't Commit Crimes'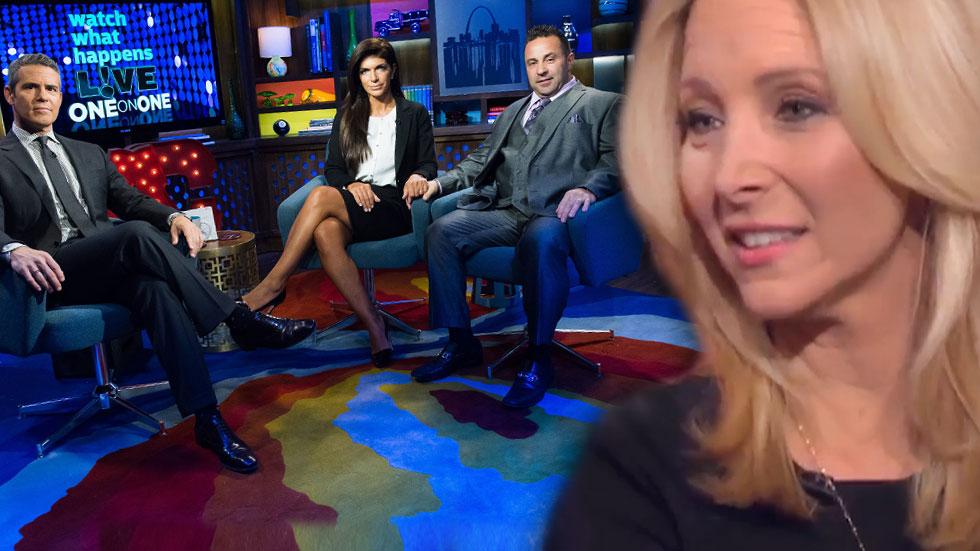 Lisa Kudrow won't be there for the Giudices.
The Emmy Award-winning actress, appearing on Watch What Happens Live Thursday, showed little sympathy toward the prison-bound reality TV couple when asked about her thoughts on the recent Bravo special, Teresa & Joe Giudice: One-on-One.
The 51-year-old actress said she found the investigative special to be "hard-hitting," adding she "felt really bad" for the couple's four daughters, Gia, Gabriella, Milania and Audriana.
Article continues below advertisement
"And then I remembered, right, that's why we don't commit crimes!" Kudrow said. "We think about our family and our children."
The Comeback star, asked about Jim Marchese's outspoken showing on the reunion special, said she agreed with the cast member's previous decision to distance himself from embattled Joe Giudice.
"I'm on his side, I can't spend time with these people — because I also like to avoid felons!"
Watch the video on RadarOnline.com
Ouch!
In the meantime, Teresa, as of Friday, has 60 days left until she's due to report to prison to serve her sentence Jan. 5.
Readers, was Lisa out of line with her blunt take on the Giudices? Sound off in comments!