Kendall Jenner: My Parents' Divorce Has 'S*cked,' Media's Weight Jabs Are 'Cruel & Evil'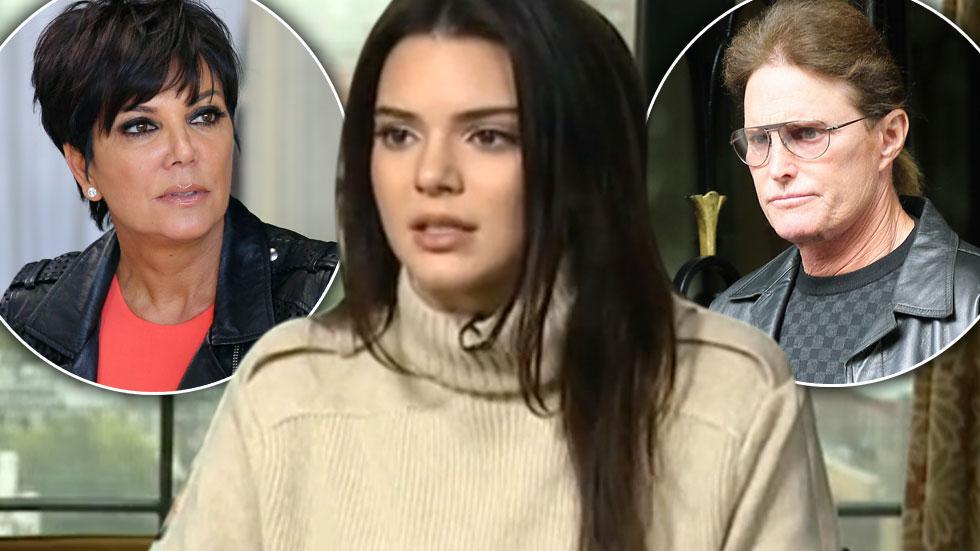 Kendall Jenner didn't mince words speaking about her parents' split.
"It sucked," the 19-year-old model told Nightline's Juju Chang Monday, adding that "it's not the worst thing that could have happened," as she's been able to maintain close relationships with both Kris and Bruce Jenner throughout the tough times.
"I still am so close with both my dad and my mom, Kendall said. "Nothing has really changed, except for the fact that now my dad lives on a beach, which is awesome.
Article continues below advertisement
"That's not that bad ... everybody's happy."
Speaking about achieving fame and fast success at such a young age — and the intense spotlight that comes with it — Kendall said she blows off the endless gossip about her family, as she know's what's going on as a member of the Kardashian inner circle.
"Why would you ever want to live your life like that? So like, just traumatized, by what everybody is saying about you?" Estee Lauder's newest signee said. "If you just ignore it and go on and you're like, 'I know what's real.'
"My family, my friends, they know what's real. So what else, why does that matter?"
Kendall did crack a tad, though, when asked about the focus on her weight as a catwalk crawler — specifically when the Australian outlet Famous published a story titled, "You're Too Fat For Runway" — saying she choose not to acknowledge the story out of disgust.
"I don't feel the need, you know what I mean?" she said. "Let them do what they want to do. Let them sit behind a computer and write stupid things about a young girl and make her feel bad about herself.
"I think it's cruel and it's evil."
As RadarOnline.com previously reported, the weight chatter might have gotten to the lanky beauty more than she's letting on, as a source said the teen "is doing whatever she can" — including taking supplements — in her efforts to remain "in the modeling industry."
More of Kendall's interview can be seen on ABC's Nightline Tuesday at 12:35/11:35c.