Another Victim? Supermodel Janice Dickinson Claims That She Too Was Drugged and 'Sexually Assaulted' By Bill Cosby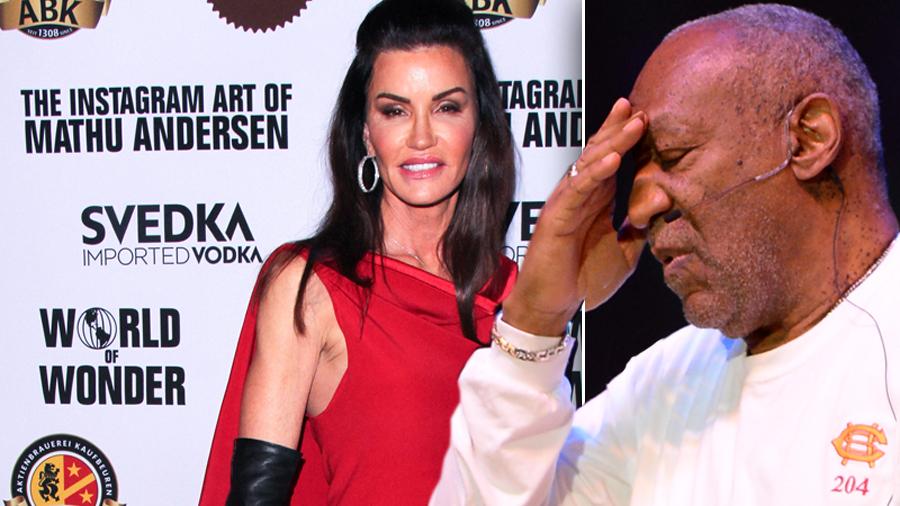 Another rape victim—this time a familiar face—is stepping forward with shocking new allegations about comedian Bill Cosby.
Janice Dickinson, the self-proclaimed first supermodel in the world, sat down with Kevin Frazier for Entertainment Tonight and alleged that The Cosby Show star drugged and raped her when she was just 27 years old.
Now 59, Dickson told ET that her agent scheduled a meeting with Cosby in order for them to talk about her future acting and singing career.
Article continues below advertisement
"Cosby called me and to the best of my recollection, the conversation went something like, 'you need to get to Lake Tahoe because that's where I will be performing and I want to offer you that job we talked about as well as helping you with a singing career I heard you're trying to do," she said.
She claimed she recalled Cosby giving her a glass of wine and a pill — which she inquired about because she was suffering menstrual pains.
"Then after dinner…in my room, he had given me wine and a pill. The next morning I woke up and I wasn't wearing my pajamas," she alleged. "And I remembered before I had passed out, I had been sexually assaulted by this man."
She continued, "... Before I woke up in the morning, the last thing I remember was Bill Cosby in a patchwork robe, dropping his robe and getting on top of me. And I remember a lot of pain. The next morning I remember waking up with my pajamas off and there was semen in between my legs."
Article continues below advertisement
Dickson also told ET that she's been wanting to come clean about this horrifying incident years ago with her autobiography, No Lifeguard on Duty: The Accidental Life of the World's First Supermodel. However, when Cosby and his attorneys got wind of what she was planning to do, she claims they burdened the book's publisher as well as her to remove the details of that tragic night.
The former America's Next Top Model judge alleged that the events of that night deeply scarred her for life.
"Stuffing feelings of rape and my unresolved issued with this incident has drove me into a life of trying to hurt myself because I didn't have counsel and I was afraid," she said. "I was afraid of the consequences. I was afraid of being labeled a whore or a slut and trying to sleep my way to the top of a career that never took place."
However, she has now found the courage to speak out, she said, as other women came forward. "I'm doing this because it's the right thing to do, and it happened to me, and this is the true story," she said. "I believe all the other women."
When asked what she would say to Cosby now that she's no longer afraid of any ramifications, she simply replied, "How dare you," she says. "Go f*ck yourself. How dare you take advantage of me. And I hope you rot."
Cosby's attorney posted a statement on Cosby's website that said, in part, "decade-old, discredited allegations against Mr. Cosby have resurfaced. The fact that they are being repeated does not make them true. Mr. Cosby doesn't not intend to dignify these allegations with any comment."