Gwyneth Paltrow Returns Fire At Martha Stewart — With Direct Reference To Her 'Jailbird' Days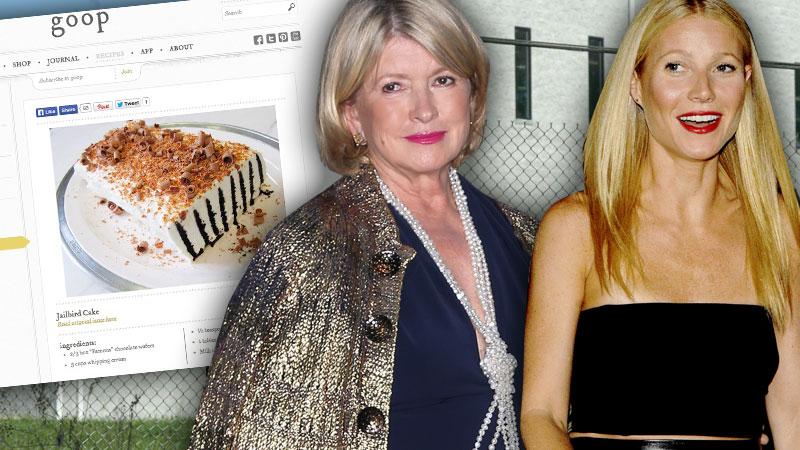 This Gwyneth Paltrow-Martha Stewart feud is beginning to get vicious.
As the tension between the two builds over who is the queen of the growing lifestyle industry, Paltrow fired off a nasty shot this week, introducing on her site goop, a recipe called "Jailbird Cake" — an obvious reference to Stewart's time behind bars 10 years ago in her stock trading conviction.
The snarky sweet comes a month after Stewart introduced a recipe called "Conscious Coupling," a not-so-subtle jab at Paltrow's awkwardly-worded announcement she was separating from husband Chris Martin earlier this year.
Article continues below advertisement
"If Martha served up the appetizer, the 'Jailbird Cake' is just desserts," a Paltrow insider told People. "The folks at goop know how to have some fun, too."
As previously reported, some of those folks at goop — namely, executive Lisa Gersh — used to be employees of Stewart, another shot fired in the lifestyle industry war.
Stewart in September told PORTER's Fall issue that Paltrow's a "movie star … who just needs to be quiet," adding that "if she were confident in her acting, she wouldn't be trying to be Martha Stewart."
Paltrow, the next month, laughed off the jab, saying she was "psyched" that Stewart saw goop as a viable competition.
The tension between the two dates back three years, after Stewart annoyed Paltrow when she left a dinner party the A-lister threw early.
Readers, who are you pulling for in this celebrity feud?