Exclusive
Sinking Ship! Gwyneth Paltrow's GOOP Still Bleeding Cash, Now Facing $1.6M Debt — Read The Latest Corporate Filings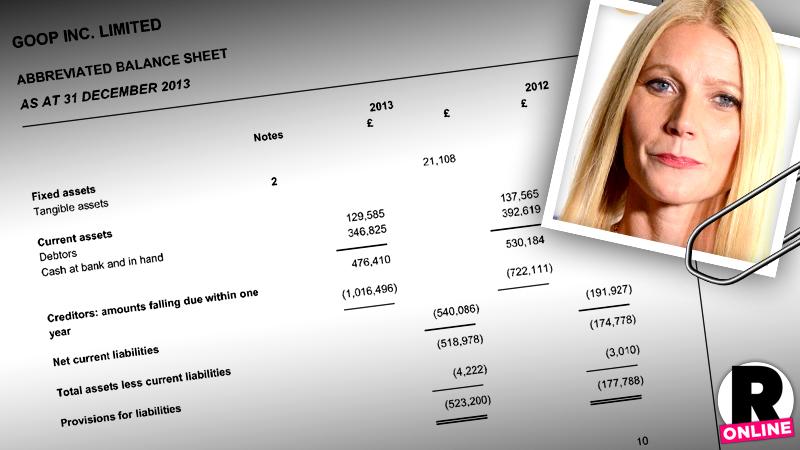 When RadarOnline.com revealed earlier this year that Gwyneth Paltrow's GOOP was bleeding cash, she insisted, "Those numbers are based on filings from a couple of years ago, so you shouldn't believe everything you read." But now, RadarOnline.com has learned, the latest corporate documents for the lifestyle company show that the financial state of affairs has only grown more dire since then — with both debts and losses mounting!
Article continues below advertisement
Paltrow opted to file only an "abbreviated balance sheet" for GOOP for 2013, obscuring the full nature of the company's financial issues. But what the report does show is not encouraging.
According to the corporate financial records filed in the U.K. last month and obtained by RadarOnline.com, the company's assets fell from $848,226 (£530,184) in 2012 to $752,210 (£476,410) in 2013.
Worse, Goop has $1,626,295 (£1,016,496) in debts falling due in the next year. In 2012, they only faced upcoming payments of $1,155,330 (£722,111).
Shareholders' funds nose-dived, from a deficit of $284,449 (£177,788) in 2012 to $837,087 (523,200) in 2013.
Despite the dire financial data, the report notes, "As the company started product sales in June, 2012, the directors are of the opinion that predicted profits will provide sufficient resources to enable to the company to continue trading for the foreseeable future."
Article continues below advertisement
As RadarOnline.com has reported, this is only the latest in a series of disappointing years for the business.
In 2011, GOOP "incurred a loss of $255,312 (£152,060) and had a net liabilities of $259,969 (£154,834)." And in 2012, they reported "a loss of $39,823 (£23,718) and … net liabilities of $298,512 (£177,788)," according to corporate filings obtained by RadarOnline.com.
The company has seen multiple staff turnovers in recent months as well, RadarOnline.com has learned. Last month, Paltrow announced she had hired a new CEO. And while the move was touted as a coup — the new head, Lisa Gersh, formerly worked for Martha Stewart — it's only the latest major turnover in recent months at the company. Longtime CEO Sebastian Bishop quit in April amid RadarOnline.com's report that the company was bleeding cash.
Article continues below advertisement
As RadarOnline.com reported, Goop raked in more than $1.5 million (£908,378) in 2012 alone, thanks in part to $463,486 (£276,040) in product sales, as well as an impressive $355,603 (£222,243) from Groupon promotions and $373,159 (£535,002) in commissions. Such sales represented nearly all of the company's profits, which were $1,893,065 (£1,127,456) that year.
According to the documents obtained by RadarOnline.com, however, that same year, GOOP spent $98,150 (£58,456) on Goop.com, $79,961 (£47,623) on the notorious GOOP newsletter, $189,590 (£112,918) on product costs, and a whopping $1,564,995 (£932,096) in administrative expenses," adding up to the grand profit total of a loss of $39,823 (£23,718). At the time, the company's standing debts totaled more than $1million.
Paltrow has insisted, "We're on the (verge) of a lot of changes at the website right now and we have some really exciting announcements coming up…"
Story developing.