Exclusive
So Out Of Touch! Gwyneth Paltrow Touts $50k 'Games Room' Décor In Newest GOOP Letter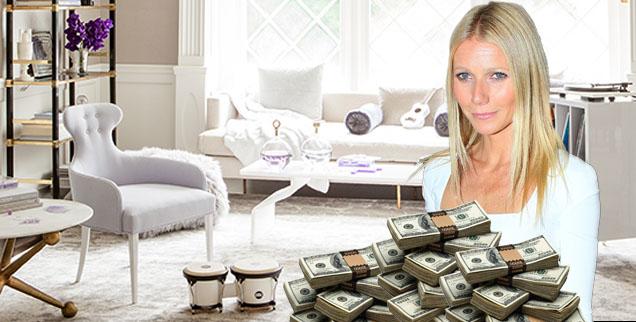 Last week Gwyneth Paltrow used her website to announce that she and her husband were going to "consciously uncouple," but this week the Park Avenue Princess is back to her fancy shilling, touting home décor that RadarOnline.com has calculated would cost a whopping $50,000 to purchase all of the luxury goods.
In the mood for a $9,600 photograph? Or just a $265 jewel box domino set? Well Paltrow, with the help of her famed decorator Windsor Smith, has made these products available via GOOP so you too can live as elegant of a life as the actress who owns four stunning homes (the one decorated by Smith she purchased for $10 million.)
Article continues below advertisement
"A custom-designed backgammon table offers leather details and amethyst playing pieces," for just $6,995 is another of the high end products Paltrow is encouraging her readers to purchase for their own lovely homes.
Named the "GOOP Games Room," Windsor Smith Room in a Box tells readers to "Set down the iPad and pick up the backgammon dice!" which can be purchased for just $125.
The pricey retro products include "The Mod Table with brass tipped feet is designed to hold a turntable on top and a vinyl collection below," for $2,800 or a $1,920 table that "Windsor added a marble top to this Jack table from Arteriors."
Perhaps if they were just invited over for game night with $48,060 in luxurious accessories all of the problems would go away?
Tell us what you think about Paltrow's GOOP Games Room products in comments below.