Gwyneth Paltrow Blows Off Martha Stewart's Copycat Claim, Says She's 'Psyched' Homemaking Queen Is Intimidated By Success Of Her Lifestyle Website Goop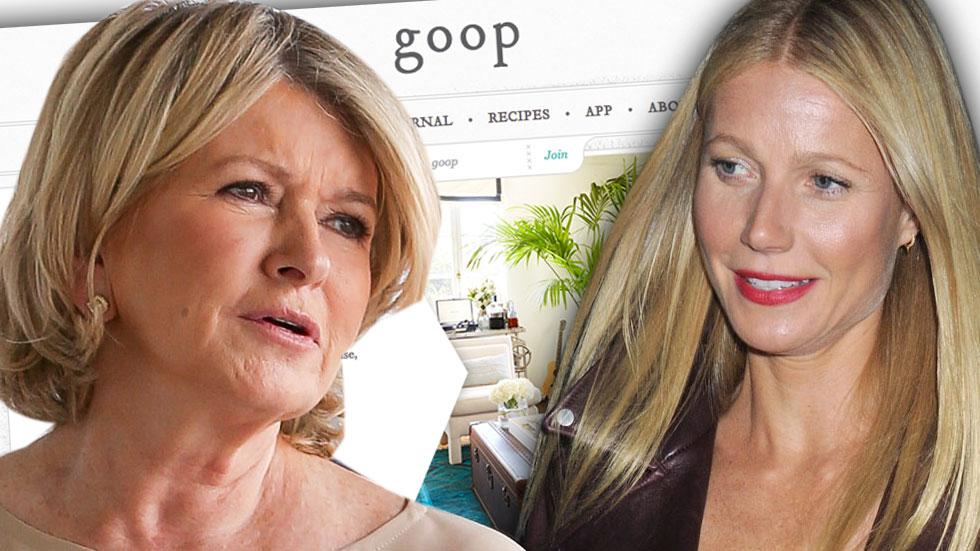 Gwyneth Paltrow had a snarky response to Martha Stewart's recent quip, that she's a Hollywood copycat stepping on her turf with her Goop website.
"No one has ever said anything bad about me before, so I'm shocked and devastated — I'll try to recover," the Oscar winner said during a speech at Fortune's Most Powerful Women Summit Tuesday. "If I'm really honest, I'm so psyched that she sees us as competition, I really am."
Article continues below advertisement
As RadarOnline.com previously reported, Stewart last month told PORTER's Fall issue that Paltrow's merely a "movie star … who just needs to be quiet," adding that "if she were confident in her acting, she wouldn't be trying to be Martha Stewart."
Paltrow, who ruffled Stewart's feathers hiring away her exec Lisa Gersh for Goop, laughed off the bad vibes, giving a nonchalant take on the growing success of her lifestyle-themed website.
"When I started it, it really was just for myself and my friends — I didn't foresee the community I was creating," the Country Strong star said. "I sometimes look back and say, 'What the heck, what was I doing?"
It's Paltrow's first return fire since the diss last month; her mother, Blythe Danner, took up for her after the jab was initially published, as a source told The National ENQUIRER that the veteran actress called Stewart and "asked her how she could say such a cruel thing about her daughter."
An unrepentant Stewart fired back "she was just calling 'em as she sees 'em," the source said, leaving the Meet The Parents star "disgusted."
The tension between the two lifestyle mavens goes back three years, after Stewart annoyed the Se7en star when she left a dinner party for Paltrow's My Father's Daughter cookbook early.