Oops! Gwyneth Paltrow's Goop Website Slapped With A Lawsuit: Read The Claims Goop Stole Diet Detective's Name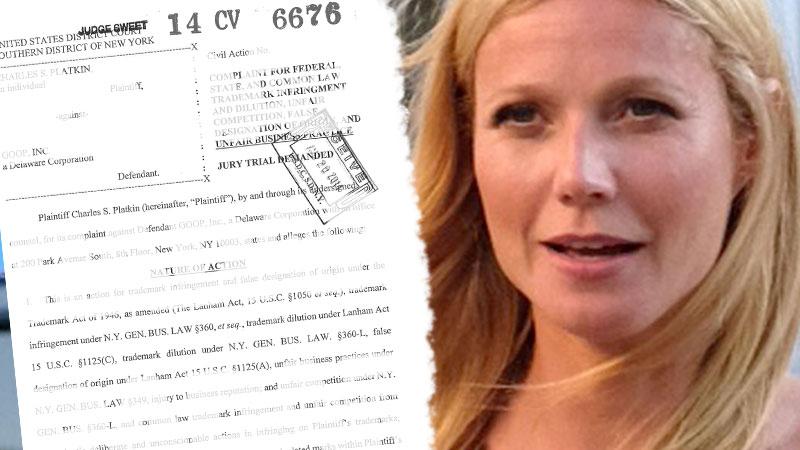 In another setback for Gwyneth Paltrow, her lifestyle website Goop has been slapped with a lawsuit.
Charles Platkin is suing Paltrow's company, alleging that Goop infringed on his "Diet Detective" copyright by posting an article using that title.
According to the legal papers obtained by RadarOnline.com and filed in U.S. District Court, Southern District of New York, on Wednesday, Platkin claims that Goop engaged in "deliberate and unconscionable actions in infringing on Plaintiff's trademarks" in a July 17, 2014 article.
Article continues below advertisement
READ The Claims GOOP Stole His Name
The court documents allege that Goop ran the article that included the content: "Today on goop: Diet Detective/Nutritionist Kelly Dorfman takes the mystery out of what might be plaguing our systems—and presents a program for picky eaters."
Platkin, the author of various books under the Diet Detective name, claims that Goop violated his copyright and that all his requests to the company for reimbursements "for the value of infringed-upon trademark…were all ignored and/or dismissed…."
So now he's suing Paltrow's web site, which is already under fire for its snobby attitude. Critics have derided the actress for being out of touch in touting expensive organic food and ritzy décor such as a $50,000 game room on Goop.
As RadarOnline.com revealed earlier this year, Goop is losing thousands of dollars according to corporate documents – thanks in part to Paltrow allegedly taking out an interest-free loan from the company coffers. The company's CEO also quit.
In addition, Paltrow's personal life has fallen apart as she recently split up with her husband, Chris Martin.
Platkin is seeking a court order barring Paltrow's site from continuing to using his Diet Detective marks, as well as a jury trial and monetary damages.