Get Ready To Rumble! Teresa Storms Off Set, Dina Details Family Drama, & Amber Clashes With The Twins On 'RHONJ' Reunion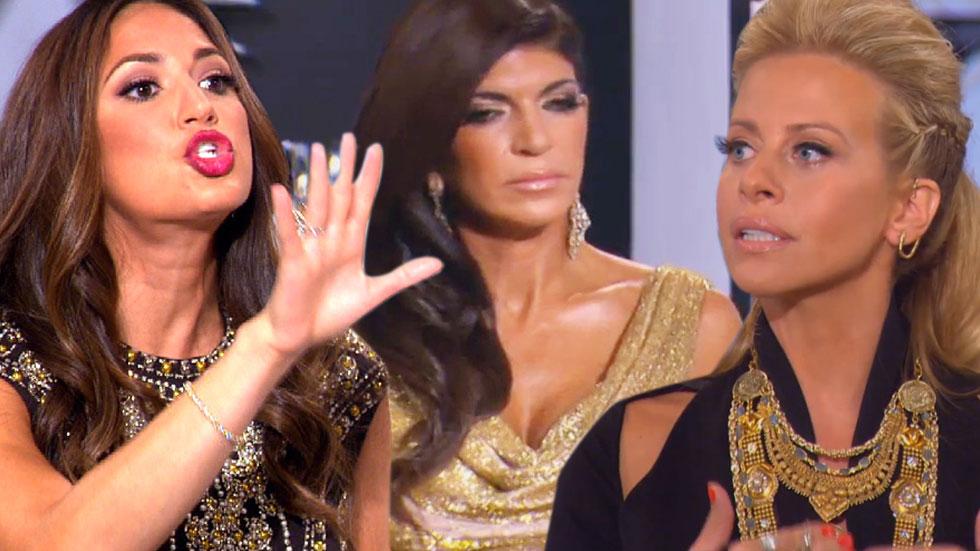 In the past, when Teresa Giudice has been confronted during a Real Housewives of New Jersey reunion special, she's been known to make reality TV history with jaw-dropping actions like pushing Andy Cohen in his chair and chasing Danielle Staub out of the room.
But this time around, the jail-bound reality star stormed off set — instead of at a fellow housewife!
On this week's part one reunion special of RHONJ, Cohen kicked off the highly-anticipated episode by discussing Giudice's 15-month prison sentence.
Article continues below advertisement
Although Dina Manzo stayed quiet about her friend's sentencing during the season, she finally opened up to Cohen: "There are people who commit murders walking around on the streets. She's such a good girl, it's just crazy to me."
But not all of Giudice's family and friends felt remorse for the reality star. Giudice's aunt "Mama Wakile," Kathy Wakile and Rosie Pierri's mother, said while discussing the sentencing, "When you don't do the right thing, it always catches up with you."
When the clip played during the special, Giudice stormed off set and said, "I need a break. You guys can have the conversation without me … I don't want to be there with that conversation.
"To me, family doesn't act like that."
Cohen also drilled Dina Manzo for her tumultuous relationship with her sister Caroline Manzo, brother Chris Laurita and sister-in-law Jacqueline Laurita.
When asked if she returned to the show because her family was no longer on it, Manzo replied, "That did have something to do with it. I would never do a show with family again. It's just not a healthy environment.
Article continues below advertisement
"If it was a cooking show or something fun …"
Manzo, when asked if she would appear on a cooking show with her sister, said she "absolutely would.
"I love my sister — I'm not going to get into this show with a sibling."
Dina then explained that she considers their estranged relationship to be more of a break, and that she is sure she will eventually make up with Caroline.
"I love my brother, I love my sister," Manzo told Cohen. "There are certain people I cannot have an exchange with. It's always toxic. It's just healthier to love from a distance for me."
But it doesn't seem that her family is on the same page: No one showed up when Manzo invited the entire family to her daughter Lexi's graduation party.
"I would love for them all to just show up and everything to just go away," Manzo explained. "I tried to squash it a million times in the press and say everything was fine, hoping they would go along with it and you see each other and everything goes back to normal, but it somehow doesn't go away."
Article continues below advertisement
Twins Nicole Napolitano and Teresa Aprea also brought drama by firing at Amber Marchese many times during the reunion special.
When asked by Cohen if people accuse her of pulling the cancer card for sympathy, Marchese fired at the twins for saying it on Watch What Happens Live.
This statement angered Napolitano, who demanded that Marchese refer to them as two different people because she was the only one who said it.
"Sometimes I just match you together," Amber said as Aprea fired back, "You have a brain — you know the difference!"
After Marchese explained that she used the show as a platform for breast cancer, the group began talking about the most controversial member of the group, her husband Jim Marchese.
"You act like a lady, he'll treat you like a lady," Marchese said of her husband. "You act like a barbarian then you'll be treated like a barbarian."
When asked if the twins could say anything nice about Jim, Aprea replied, "I personally can't say anything nice about him. I think every single one of us here was just beaten down by him … I've never been around such an abusive person."
The drama continues during part two of the reunion special on Thursday at 8/7c on Bravo.