Revealed! The Real Reason Dina Manzo Hates Jacqueline Laurita So Much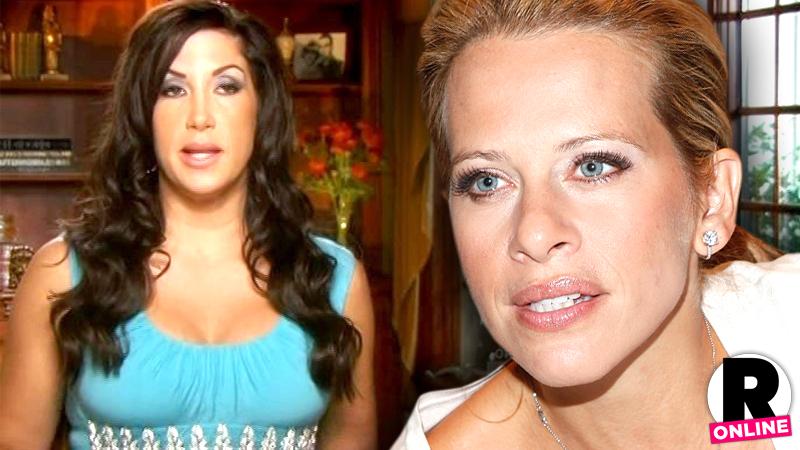 Hell hath no fury like Dina Manzo scorned!
"As ridiculous as this sounds, Dina has been holding a grudge against Jacqueline Laurita since Season 1," a source tells RadarOnline.com exclusively.
The source explains that all the drama stems from the Real Housewives of New Jersey finale that year, during which Danielle Staub brought out Cop Without A Badge, a book written by her ex-husband that laid bare Staub's criminal past. Staub then blasted Manzo, insisting that the past was "very much in the present thanks to you," blaming Manzo for showing the book all around town.
Article continues below advertisement
Watch: Jacqueline Laurita Talks About Son's Autism
"Like she often does, Dina tried to act like her hands weren't dirty at that dinner," notes the source. "Jacqueline sat quietly and played along at first, especially in the beginning, when Dina's sister, Caroline Manzo, took responsibility for showing the book around herself."
But Manzo, 44, started pointed fingers and accused 42-year-old Laurita of getting involved, too. "That's when Jacqueline lost it and told Dina 'I'm done lying for you,'" recalls the source. "As soon as she said that, her relationship with Jacqueline was basically over."
The situation only went from bad to worse thanks to what Manzo perceived as a slight from her brother Chris Laurita. "After the dinner, the girls went to the reunion, and Dina acted civilly, but when Jacqueline's husband claimed Danielle was welcome in his house anytime, Dina turned this around and, yet again, made it about her," continues the source.
"Dina took this as a personal offense and felt that by her family members being nice to Danielle, they were going against her. Once she left mid-season 2, she cut off all ties with Jacqueline. To this day, she is still holding on to her grudge."
Article continues below advertisement
The drama has only ratcheted up through the years. As Radar recently reported, Dina threw a huge fit when Laurita's daughter, Ashlee Holmes, showed up to do makeup at the current season reunion and was heard screaming she "will not film a show with Jacqueline."
And on October 20, Dina hinted she may leave the show as she is done dealing with "horrible people," which many fans took to mean Laurita, Dina's sister-in-law-turned-arch-enemy, Laurita.
Do you think Dina should let bygones be bygones and fix her relationship with Jacqueline, or is she in the right on their issues? Sound off in the comments.