Exclusive
RHONJ Rumble! Dina Manzo 'Flipped Out' And 'Threw A Tantrum' About Jacqueline Laurita's Daughter Ashlee Being At Reunion Show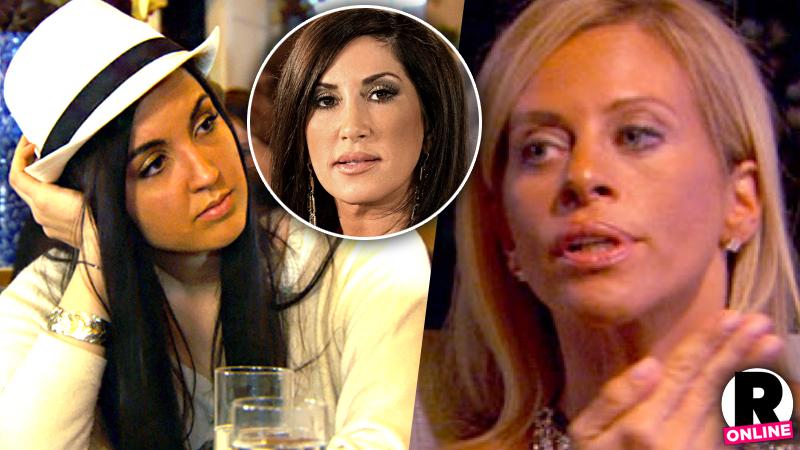 Article continues below advertisement
"Dina flipped out," the source said. "As soon as she saw Ashlee, Dina threw a little tantrum and asked to have her removed."
And incredibly, Bravo bowed to Manzo's request, as "production removed Ashlee from the main floor and into a separate room to work on the makeup.
"This made no sense, as Ashlee hadn't done anything wrong. She just showed up to do her job."
But reality show firebrand Manzo, 42, continued to rail about her niece, 23 -- and more viciously, about Laurita, 44.
"Dina was ranting and raving that she will never film a show with Jacqueline ever. I suppose she thought Jacqueline was going to show up to the reunion since Ashlee was there, but Jacqueline wasn't because she was set to be a keynote speaker at an autism conference for the Talk About Curing Autism Foundation in California that day," the source noted.
As RHONJ fans know, Laurita's son, Nicholas, 5, has battled autism and the housewife has shared his emotional milestones on the show.
Article continues below advertisement
But in a less heartwarming family situation, according to the source, Manzo's fussing didn't end when the reunion show taping did.
"When the day wrapped, one would think the feud was done, but it wasn't," the source sighed. "Dina and her daughter Lexi continued to make passive aggressive tweets in an attempt to strike at the Laurita family on social media and behind the scenes."
In fact, Manzo wrote to her followers on Twitter, "Reunion is in the can…happy this is over."
As RadarOnline.com has previously reported, Manzo was furious when Laurita returned to RHONJ and is desperately trying to control the drama on and off the scenes.
The source noted at the time that Manzo was afraid of any potential confrontations at the reunion.
But now she's caused one, said the source.