Exclusive
Michael Jackson Skin Doctor Arnie Klein's Destruction Nearly Complete — 'The Classic Story Of Excess'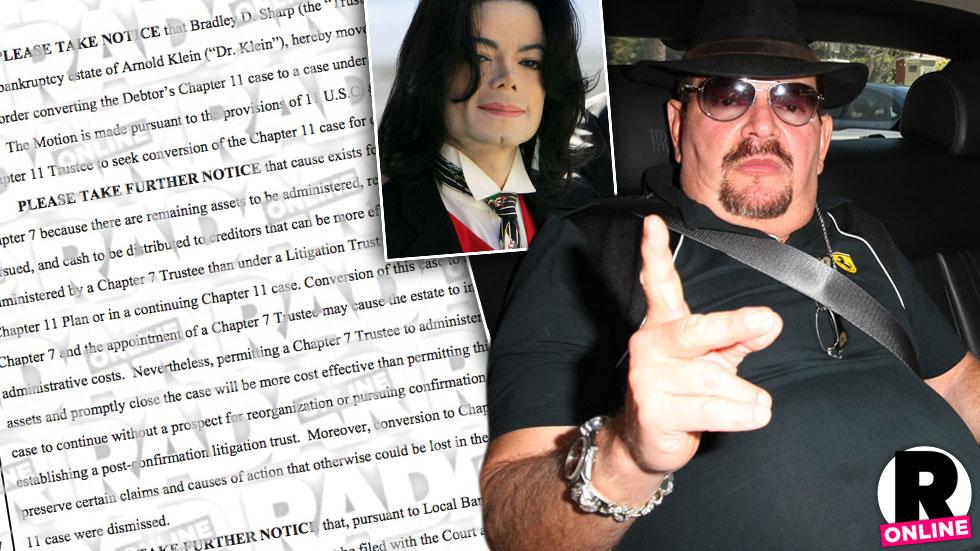 Article continues below advertisement
But court records show his dermatology clinic suffered as many of his celebrity clients abandoned him in the early 2000s.
Klein never throttled back his lavish lifestyle, still spending millions on expensive vacations, jewelry and art, according to court filings.
His practice was struggling when Michael Jackson returned to the United States from a self-imposed exile. Jackson called for an appointment in early 2009, just as he was starting preparations for his ill-fated comeback tour.
"He did think that Michael Jackson was the savior and he was going to put him back on the pedestal," Pfeiffer said.
Jackson made frequent visits to Klein's Beverly Hills clinic in the last three months of his life, running up an $80,000 bill for services that included heavy injections of the powerful painkiller Demerol, according to court records.
Although Jackson's death on June 25, 2009 has been legally blamed on Dr. Conrad Murray and the surgical anesthesia Propofol, revelations about Jackson's excessive Demerol treatments at Klein's clinic tarnished the doctor's reputation and accelerated his financial decline. He filed for Chapter 11 bankruptcy in January 2011.
Article continues below advertisement
Documents exclusively obtained by RadarOnline.com show just how dramatic his fall has been: Klein's three homes, art collection, jewelry and collection of Michael Jackson memorabilia sold for nearly $15 million.
While that's enough to pay off all secured debts, the unsecured creditors who are owed $2 million by Dr. Klein will get just 25 cents for each dollar, the court filing shows.
While most Chapter 11 cases would be closed at this point, the judge is expected to convert Klein's bankruptcy to a Chapter 7 case because the trustee says Klein should remain under the court's control.
The bankruptcy trustee wrote in a court filing this month that Klein's case is "replete with instances of misconduct by Dr. Klein" and that he "wrongfully and unlawfully diverted property of the estate to his personal use."