Exclusive
Michael Jackson's Secret Pain: Never-Before-Seen Drawings Illustrate Anxiety, Depression & Insecurity, Art Therapist Claims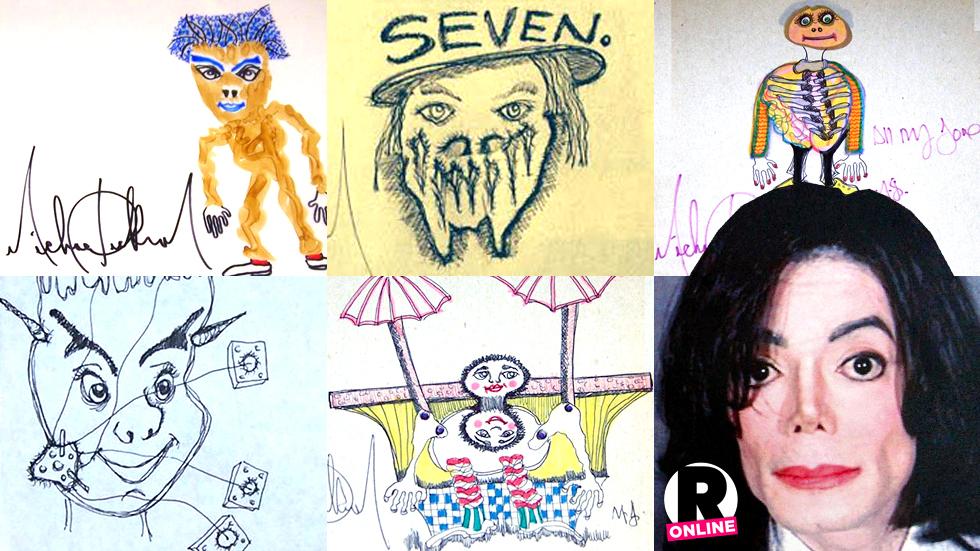 Michael Jackson left behind a treasure chest of artwork, showing deep insight into the former King of Pop's secret struggles. Purchased by a Florida man in hopes of selling them to open up a treatment center, these never-seen-before images were analyzed by a Los Angeles art therapist, who claims that the "Thriller" singer could have been dealing with pains that no one knew about – until now.
Article continues below advertisement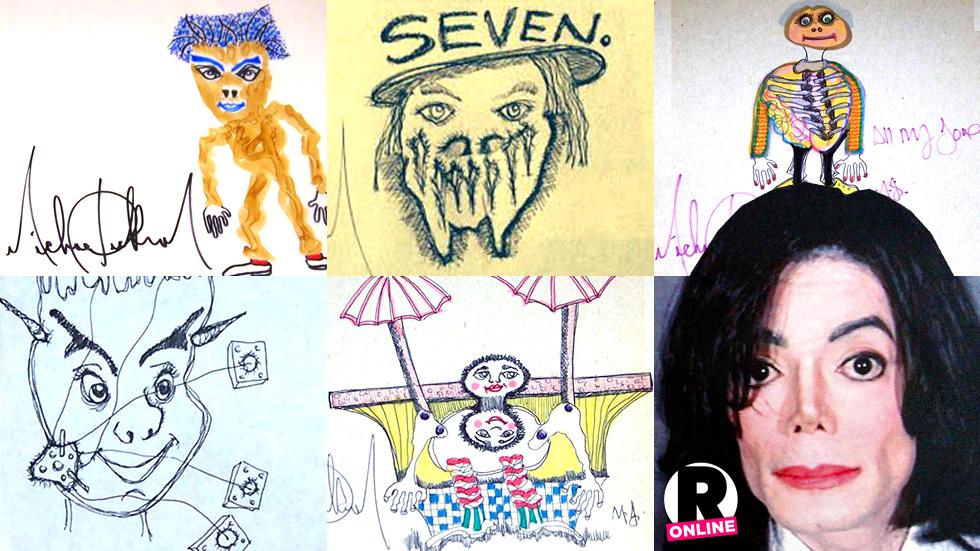 puppet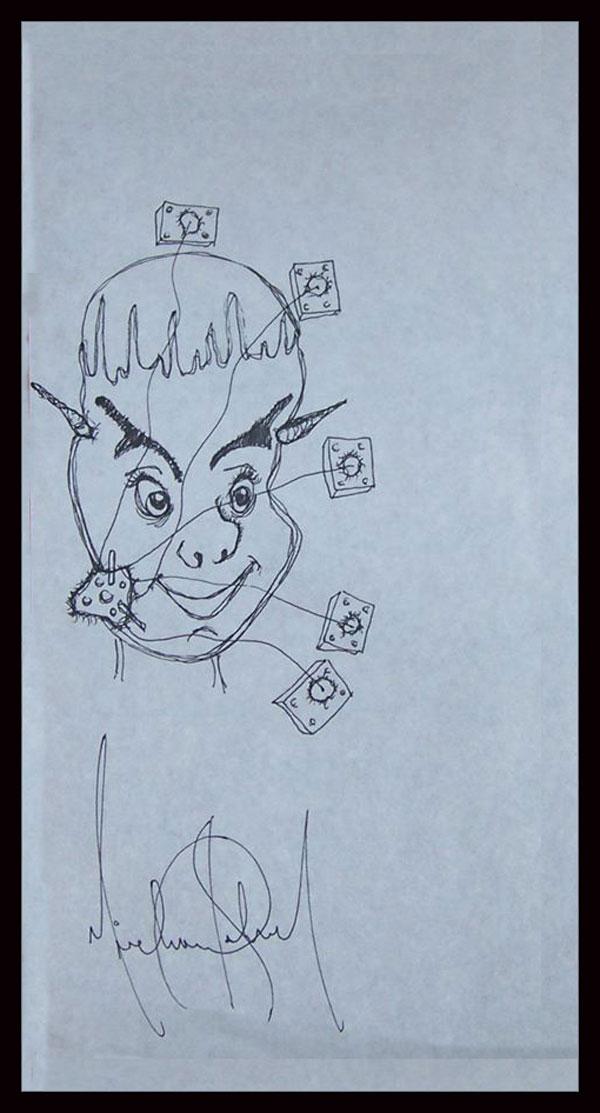 "This image could possibly reflect the archetype of the persona, which is like wearing a mask when engaging socially in different groups or situation," said Lauryn Hunter M.A., ATR, a practicing art therapist in Los Angeles who never worked with Michael Jackson. "The strings attached to the face and mouth could possibly represent a feeling of being pulled in various directions and layers of communication."
Article continues below advertisement
7bigben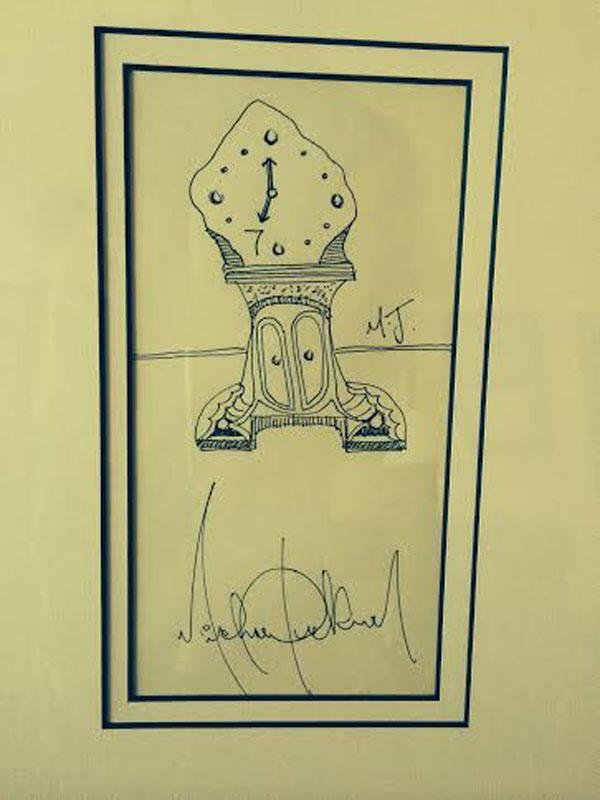 "This image of a clock could indicate an awareness or concept of time passing and getting older," said Hunter. "The face on this clock is at seven o'clock. The number seven appears in several of these drawings, which most likely represents that this is a significant number to the artist."
7face2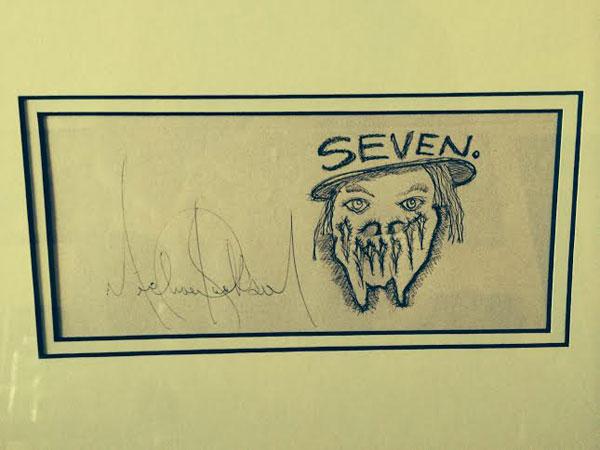 "This could represent a self-portrait of the artist. The crosshatching done around the jaw, nose and mouth draws attention to these areas and could reveal high levels of anxiety. When compared to the line quality of most of the drawing the eyes appear much softer with faint lines this could indicate a lack of energy, depression, insecurity or a shyness seen by the artist," Hunter said. "When emphasizing the mouth, as in this picture, it may possibly indicate an inability to communicate information, needs, wants or desires. The nose drawn as two shaded holes could indicate the artist has difficulty breathing or has respiratory problems."
Article continues below advertisement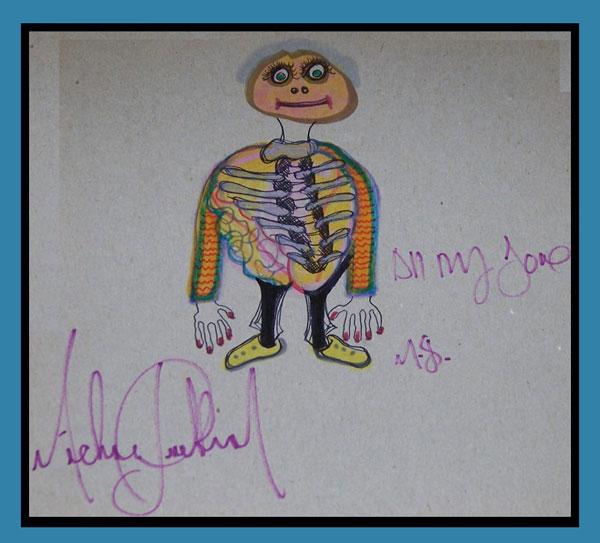 "This image provides an internal x-ray view of the body in the field of art therapy this may indicate a possible disconnect between the mind, body and reality," says Hunter, adding, "The wide range of color usage could possibly represent the artists feelings related to that particular body part, or represent their different personality characteristics."
"This image appears to be a sketch or a visual creation of a possible character used in 'Thriller' or a music video," Hunter says. "This visual art expression can be a way for an artist to release a creative idea that could be used in a future or current project such as a movie, video character or a theme for a song. As the artist was an entertainer, the large ears could indicate a possible desire to hear what others are saying, wanting to be heard or hearing too much."
Article continues below advertisement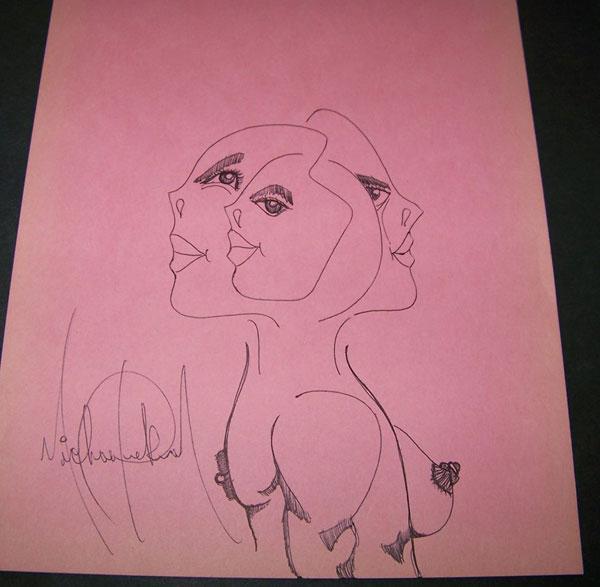 "This image has three symbolic Jungian archetypes; the Anima, a feminine image; the Animus, a masculine image; and the child that represents the longing for innocence, rebirth and salvation," Hunter tells Radar. "Merging these three archetypes together in one body could possibly symbolize the artist's process of individuation, where aspects of his personality can be integrated, providing unification with his conscious and unconscious self."
beautyheads2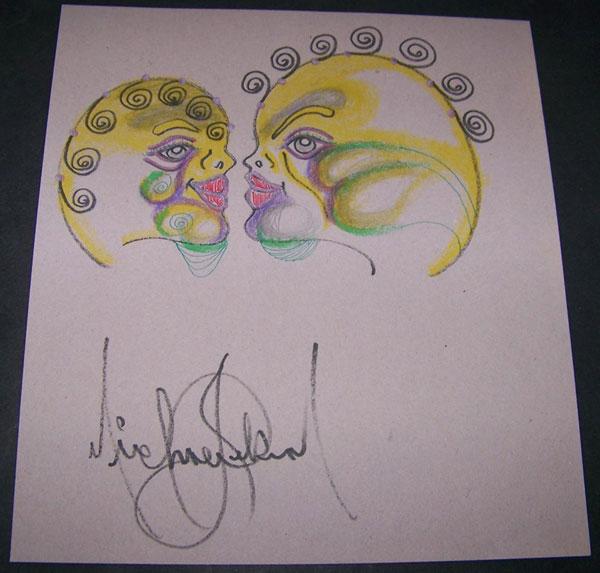 "This image appears to be two mirror images of a self-reflection. I suspect this could be a reflection of the man in the mirror who may still see himself as a child looking back at his own adult reflection," said Hunter. "In the field of art therapy the color yellow may represent hostility, dependency and infantile behavior. The color green could reveal a need for controlled behavior, cycles of renewal and over protectiveness. The color purple could indicate paranoia, persecution and quietness."
Article continues below advertisement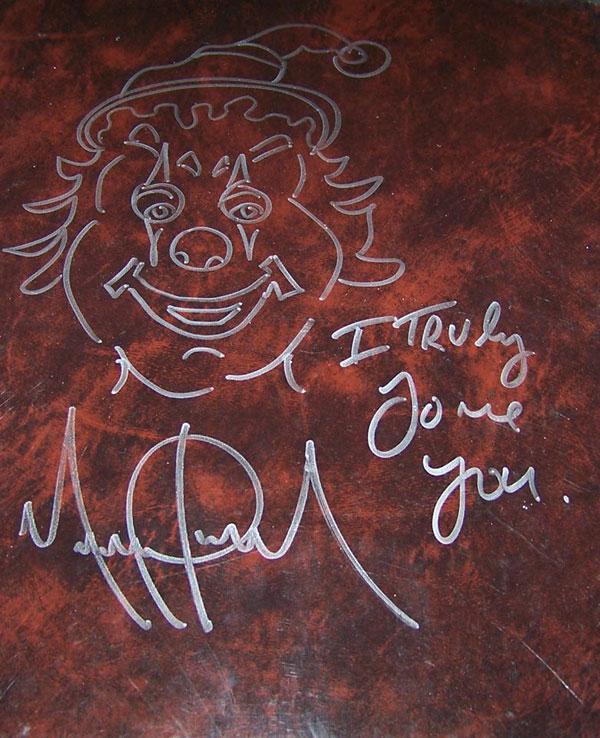 "Without asking the artist what or how he feels about clowns, I suspect his clown sketch may be as simple as representing the playful side of an entertainer performing for all ages, children and adults," Hunter suggests. "The background provides a darkness with the color crimson red. In the field of art therapy the use of red could indicate an excessive emotion, anger or enthusiasm."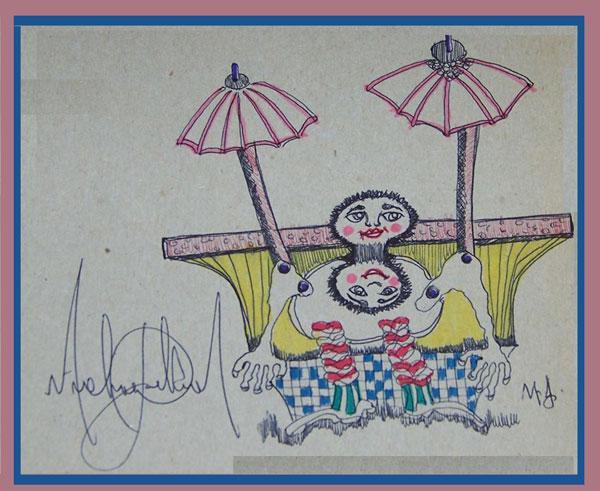 "This image plays with the idea of duality as in previous drawings, representing a two-way mirror reflection of two colorful heads, one happier than the other," says Hunter. "This could possibly symbolize being connected to or recognizing both sides of self, a possible internal and external representation of how one might think or feel."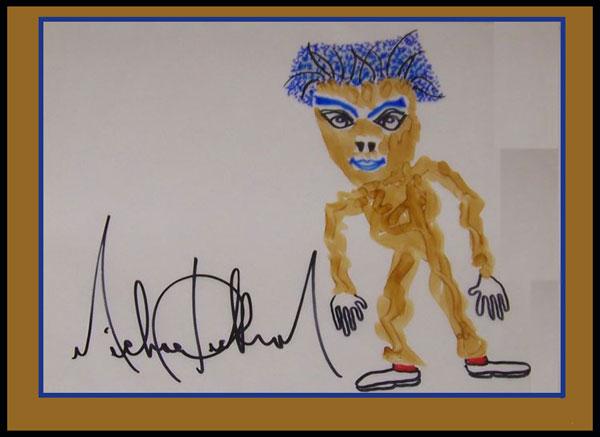 "Long or large arms could reveal a person's desire to reach out to others and/ or feel a desire of strength and power," suggests Hunter. "Indeed," says Joe Brat, who is the owner of these priceless drawings. "I intend to use the money for the sale of these drawings like Michael Jackson would have wanted me to, by opening up a Treatment Center in Florida to reach out to people who are suffering, but cannot afford to get help." For information on purchasing these drawings, contact joebrat@gmail.com.