Contents Of House Where Michael Jackson Died Sell For Three Times Auction Estimate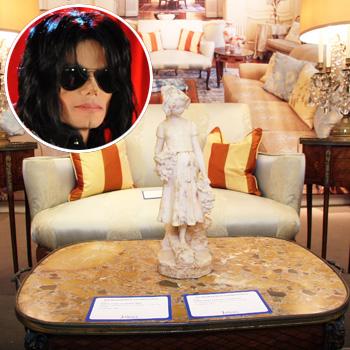 Michael Jackson continues to pour millions of dollars into his estate.
On Saturday, the contents of the last house where Jackson lived -- and died in June, 2009 -- went up for sale, and pulled in three times the pre-auction estimate.
Darren Julien, president of Julien's Auctions, revealed that the sale had topped $1 million. The company's pre-auction estimate was $200,000 to $400,000.
Julien's Auctions had earlier sold the contents of Michael's Neverland Valley Ranch and his iconic red Thriller jacket.
Article continues below advertisement
Some of the noteworthy items in this sale were a chalkboard where Jackson's children wrote "I love daddy," that went for $5,000, and a mirror which had a message Jackson wrote to himself that went for $25,750.
The auction also included personal furniture and artwork from the rented Los Angeles home where Jackson moved with his three children while preparing for his 'This Is It' comeback show.
The family insisted that the bed's headboard not be included in the sale, but a rug that was beneath the bed where Jackson died sold for $15,360. The estimate had been $400 to $600.