Exclusive
Dr. Arnie Klein — Judge Slaps Him With Restraining Order Over $76K Rolex, Bankruptcy Estate Believes He Withheld The Watch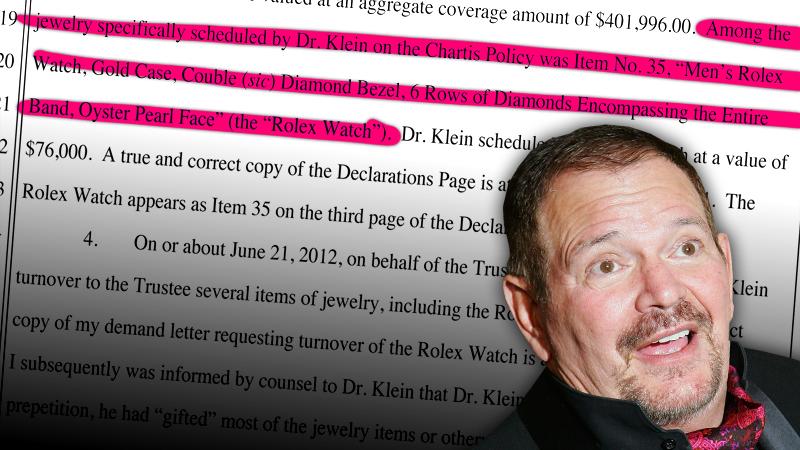 Article continues below advertisement
According to the legal documents filed on June 10, 2014, the Trustee was informed earlier this year that Klein indeed DID have possession of the Rolex all along and had actually used the watch as collateral to obtain a $10,000 loan.
"I believe that the Rolex Watch referenced in the Appraisal and in the Loan Contract is the Rolex Watch listed on the Declarations Page, the Rolex Watch is property of the Estate, the Rolex Watch currently is in the possession of the Lender, and the Rolex Watch will be released by the Lender upon payment of the Loan," the papers read.
Article continues below advertisement
It should also be noted that the lender only valued the Rolex at $35,000, not the $76,000 Klein claimed it was worth.
The filing was made as an emergency motion because based on Klein's past conduct, they were afraid he would try to keep the Rolex from the bankruptcy estate.
"I believe that if Dr. Klein became aware that the Trustee knows the current location of the Rolex Watch, Dr. Klein would act promptly to take back possession of the Rolex Watch in order to keep it from the Trustee," the declaration continues.
The Trustee is asking the Bankruptcy Court to order the Rolex as their property and allow them to go to the lender of the $10,000 loan and retrieve it from them.
On July 2 the judge granted the motion and ordered a temporary injunction against Klein that prevents him from retrieving the watch or transferring it in any way shape or form.