Exclusive
'A Total S**t Show': 'Still-In-Denial' Teresa Giudice Shows Up 3 Hours Late, Dances Around Prison Questions, During 'Epic' Real Housewives Of New Jersey Reunion Taping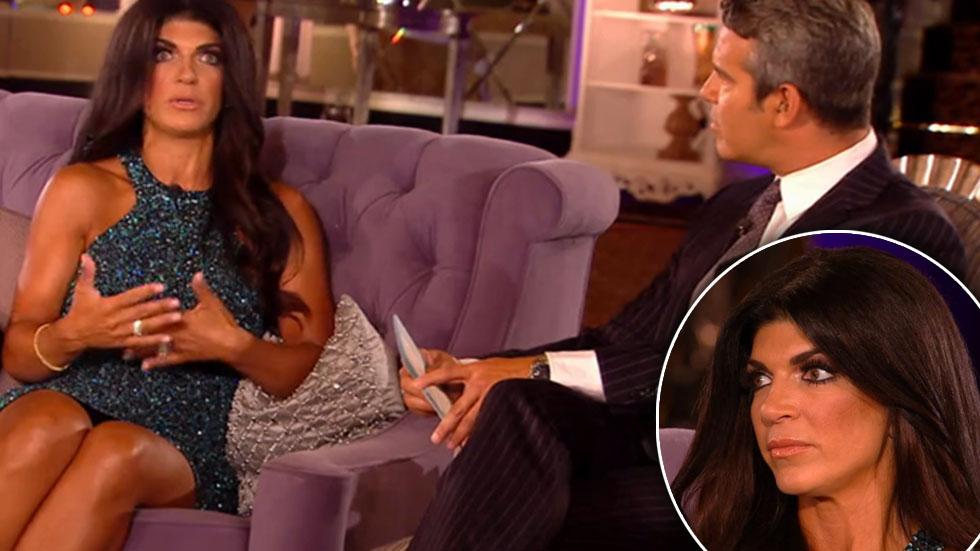 The first ladies of the Garden State gathered across the Hudson River on Sunday afternoon at Studio 37 in New York City to tape the Real Housewives Of New Jersey reunion, and multiple sources on set told RadarOnline.com it turned out to be an absolute nightmare of screaming, tears, storming off the set — and that was only from Teresa Giudice!
It was the first time the ladies gathered since Teresa and Joe were sentenced to prison.
Article continues below advertisement
Teresa — clad in a sequin cream colored strapless glittery ensemble — "showed up three hours late," the insider said, adding that "once taping began … the waterworks started."
Cohen — as he did in his sit-down interview with Teresa taped on Friday for Monday night's Watch What Happens Live — asked her all the tough questions about how she feels about the prison sentences she and her husband Joe were sentenced to last week, the insider said.
Teresa denied that her marriage to Joe was over because of his almost 5-year prison sentence (and threat of being deported to Italy) but refused to elaborate past her initial statement, the insider said.
"Teresa is absolutely still in denial, and did her best to dodge all questions about the prison sentence," the insider said. "She would get very emotional and storm off the set, and come back a few minutes later."
Article continues below advertisement
Meanwhile, none of her other co-stars jumped to her defense as Andy kept pounding away on the questions, according to the insider.
Twins Teresa and Nicole also went after Teresa for having Victoria Gotti reveal on camera that their mother allegedly had sex with Rino Aprea. Once again, Teresa deflected, and said it wasn't her fault, and couldn't control what Victoria said. Dina Manzo just sat on the couch, mumbling something about mercury being in retrograde, and tried to maintain the calm.
The 8-hour-plus taping "was epic," the insider said, "and Bravo definitely will play it out over multiple nights."
The true class act on Sunday ended up being Joe Giudice, according to the insider.
"He was a first class gentleman, humble, and very respectful towards Andy," the source told RadarOnline.com exclusively. "If only his wife could learn some lessons from her husband, Teresa might not be going to prison for 15 months."
Article continues below advertisement
Noticeably absent from the taping was Jacqueline Laurita, who was brought back mid-season to provide a boost to the low ratings.
Production insiders told us, "It's still very tense between Jacqueline and Dina, and she didn't want to deal with all of the drama. There was no way Jacqueline was going to go into that hornet's nest, it was all part of her contract.
"It ended up being a very, very smart move."
Reports that Cohen was late to the taping were inaccurate, the source said.
Bravo on Monday will announce that the Watch What Happens Live interview with Joe and Teresa will air tonight, and part two on Wednesday.