Exclusive
Smackdown! LMFAO Claims Rick Ross Promotes Drugs, Demand His Copyright Infringement Suit Be Dismissed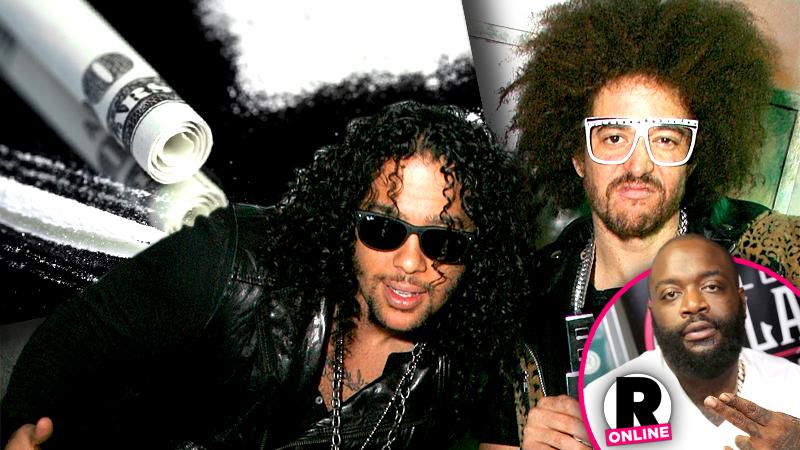 Rick Ross promotes living a dangerous life of selling cocaine to make tons of cash in his song, says the pop duo LMFAO—who are demanding his copyright infringement lawsuit against them be dismissed!
RadarOnline.com has exclusively learned from explosive court papers that LMFAO is pushing back in the music feud gone wild.
Earlier this year, rapper Ross (along with Jermaine Jackson) sued the electro pop pair, made up of Redfoo and Sky Blu, over their hit song "Party Rock Anthem."
Article continues below advertisement
The hip hop star contended that the tune, which featured the line "Everyday I'm Shufflin," ripped off Ross' line "Everyday I'm Hustlin" from his 2006 single "Hustlin."
Ross, 38, sought an injunction and damages over the alleged infringement, but LMFAO fired back, saying that the lyric in question cannot be copyrighted so Ross' lawsuit should be dismissed.
Then this week, the LMFAO pair, whose birth names are Stefan Kendal Gordy and Skyler Austen Gordy, filed new docs blasting Rick Ross and the dangerous lifestyle he promotes to his audience.
The two explain that their music is about partying and having a good time – which is very different than Ross' alleged message of selling cocaine, "energetically and aggressively and making strenuous efforts to obtain money in the drug trade business."
The court docs state, "The lyrics of the composition 'Party Rock Anthem' tell a story and express a life philosophy completely opposite to the story and philosophy celebrated and espoused in Hustlin'."
Article continues below advertisement
As Radar readers know, Ross has come under fire before for collaborating on a rap track seemingly celebrating violating an unconscious woman.
The Gordys, who are uncle and nephew and also relatives of famed Motown mogul Berry Gordy Jr., argue that rather than endorsing Ross' "Hustlin's" story of a cocaine trafficker's criminal lifestyle, their hit song "Party Rock Anthem" extols the message, "Everybody just have a good time" because "Party rock is in the house tonight ... Party Rock Anthem is a paean to good, hard core partying."
Further, LMFAO explains in the court docs that they didn't steal from Ross, and when they sing "Everyday I'm shufflin'" it's a reference to the Melbourne Shuffle -- and simply means listener should dance!
LMFAO also boldly states that their song has not had a negative effect on Ross' money. According to their court documents, if anything, it has actually increased the commercial success of the rapper's music.
Now they are demanding Ross' entire lawsuit be dismissed and he be awarded NOTHING, the legal papers reveal.
Keep reading Radar for further developments.