Who You Calling A Copycat? Jay-Z and Dr. Dre Fire Back At Gospel Group's Claims They Stole & Defaced Music In '3 Kings'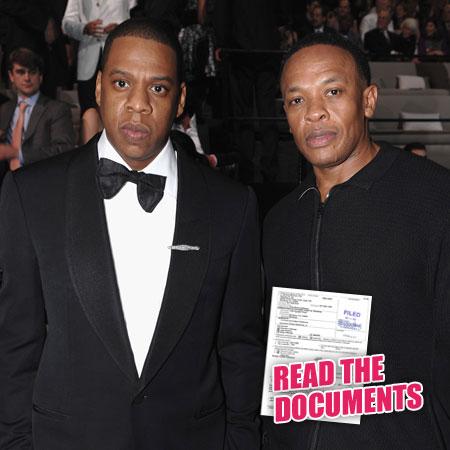 Jay-Z and Dr. Dre are pushing back against a 1970's gospel group who accused the rappers of stealing their music and lyrics without permission and RadarOnline.com has all the exclusive details about the lawsuit.
In November, Clara Shepherd Warrick and Jimmy Lee Weary, who performed back then in gospel group Crowns of Glory, sued the rappers for copyright infringement involving the 1976 song "I'm So Grateful (Keep in Touch)," alleging that the Universal Music Group artists illegally used music, lyrics, names and likenesses on Rick Ross song, "3 Kings."
Article continues below advertisement
In the lawsuit, they claimed their original spiritual tune, intended to be uplifting, has been forever defaced by "unsavory language" in the modern interpretation, "3 Kings."
Watch the video on RadarOnline.com
In the newly-filed court docs, the rap icons revealed the group previously tried to sue for the same infringement, but it was dismissed by a judge.
Watch the video on RadarOnline.com (Warning: Language Is Explicit)
"In February 2013, Plaintiffs filed a Complaint asserting claims of copyright infringement and related state law claims against Defendants. On July 17, 2013, this Court dismissed that Complaint with prejudice," the hip-hop heroes said in court docs. "Nevertheless, four months later, Plaintiffs filed their action asserting the same specious claims."
Dr. Dre and Jay-Z further explained that the gospel duo gave up their rights to the song through an agreement they entered into with Universal Music more than 35 years ago.
Article continues below advertisement
"In 1976, Plaintiffs assigned their rights in the Work to ABC/Dunhill and its successors through valid music publishing agreements," the rappers said in the docs. "Pursuant to these agreements, ABC/Dunhill registered a copyright in the Work that same year. As a result, ABC/Dunhill and its' successor, Songs of Universal, had the absolute right to license and administer the Work as they saw fit and did so without complaint from Plaintiffs for over 35 years."
Under this agreement, the gospel duo gave all rights to license and administer the song to others on the record label.
Jay-Z and Dr. Dre asked the court that this lawsuit be dismissed in its entirety.