Exclusive
He Don't Care! Kanye West Requests Judge Drop Copyright Lawsuit – 'Snippits Lack Sufficient Originality'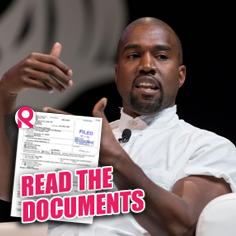 Kanye West was slapped with a copyright infringement lawsuit last year, and now he's answering the suit – with a request for the judge to move to summary judgment!
The children of David Pryor, the singer and songwriter of Thunder & Lightning's 1974 "Bumpin' Bus Stop," claimed that West illegally sampled a portion of the track for his No. 1 hit "Gold Digger."
READ: The Court Documents Here!
Trena Steward and Lorenzo Pryor alleged that around the 13-second mark of the song, the newlywed rapper used Pryor saying the words "get down." But according to the documents recently filed, the rapper and his team feel that the sample is too small to be considered an infringement.
Article continues below advertisement
"Plaintiffs fail to state a claim for copyright infringement as a matter of law because the recording snippets at issue lack sufficient originality to be protectable, and even assuming, arguendo, that the snippets are protectable, Defendants' alleged uses were de minimis," the documents read.
The plaintiffs, Steward and Pryor, were seeking statutory damages and attorneys' fees from West.
But West isn't clear out of the water just yet - he still has to deal with the $800,000 lawsuit filed by Robert Poindexter, who also claims West illegally sampled his music.
He might want to rethink that whole "creative genius" title.