Ice-T Secretly Settles 'Stolen' TV Show Idea Lawsuit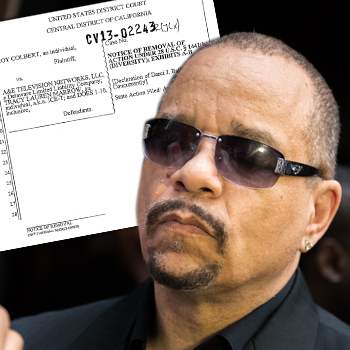 Rapper Ice-T had been adamant that he did not steal the idea behind his A&E show The Peacemaker, however, court documents obtained by RadarOnline.com show that after being sued by a man who accused him of ripping off his idea he secretly entered into a confidential settlement with him.
Ice-T, real name Tracey Lauren Marrow, was sued along with the A&E Network by a man named Roy Colbert in 2012. He said in his lawsuit that he pitched the idea of a show titled Banging Peace about stopping gang violence in LA to one of the network execs. Colbert also claimed to have sent the pitch to Ice-T's manager with the provision if it was made he would be apart of it. Nothing ever came of his pitch until years later he saw a show entitled The Peacemaker on A&E in 2010. He sued for breach of contract and was seeking damages for his show being stolen he claimed.
Article continues below advertisement
According to documents first reported by Deadline.com, Coco Austin's husband filed a response to the lawsuit June 2013 in which he stated his show was NOT stolen and he was never sent the pitch.
"Marrow denies that plaintiff submitted the "Banging Peace" idea to Marrow, and further denies that the Plaintiff submitted any idea(s) to Marrow with the expectation, fully and clearly understood by Marrow, that any such idea(s) were to be used only if Plaintiff was involved with the production of any show resulting from the idea(s), or that Plaintiff would be compensated for any such idea(s)," Ice-T's response stated.
He also claimed that his show aired in 2010 but Roy didn't sue until 2012.
The rapper stated he "did not use or disclose any of Plaintiff's purported ideas, concepts or information in connection with the creation of the Program." Ice-T also stated that he thought of the idea on his own and he asked the court to award Colbert nothing in his lawsuit.
You Can Sue For That? The 53 Wackiest Lawsuits
However, Ice-T and the network secretly settled the case DESPITE claiming they did not steal Roy's pitch for The Peacemaker.
According to documents filed on March 17, 2014, the order for dismissal states that "pursuant to the settlement agreement entered into by Plaintiff and both defendants, which this court has found to be valid and fully enforceable, Plaintiff's first amended complaint is dismissed in its entirety with prejudice."