Exclusive
He's At It Again! 'Duck Dynasty' Star Phil Robertson Rails Against 'Homosexual Offenders' In Hateful NEW Rant During Church Appearance — Will A&E Keep Him On Air?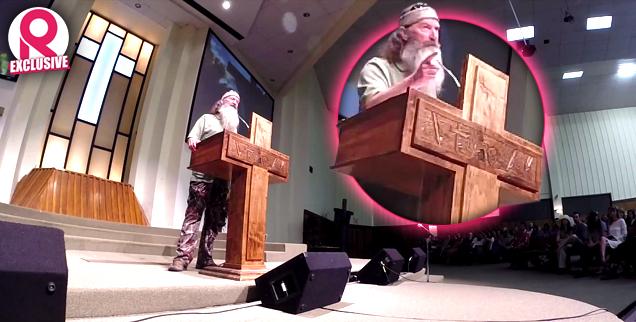 Duck Dynasty star Phil Robertson is not only a homophobe, he's proud of it. Months after the reluctant reality TV star made a public apology for his hateful comments about gay people, RadarOnline.com has exclusively learned that he's still spewing vitriol behind the doors of his local church, blasting "homosexual offenders" during one recent rant captured on video. Could this finally be the end of Duck Dynasty?
Article continues below advertisement
Robertson's controversial beliefs first made waves in December 2013, when he likened homosexuality to bestiality in an interview with GQ magazine. After public outcry and a temporary suspension from A&E, Robertson released a public apology that read in part, "I would never treat anyone with disrespect just because they are different from me. We are all created by the Almighty and like Him, I love all of humanity. We would all be better off if we loved God and loved each other."
That benevolent attitude was nowhere to be seen, however, during a fiery sermon at Whites Ferry Road Church in his hometown of West Monroe, La., on Easter Sunday, April 20.
"What's Jesus coming back for? …" Robertson asked the congregation. "To bring salvation to those who are waiting for it. Are you waiting on Jesus? Or are you afraid to see that sky busting, you see him coming? You got two lists."
Article continues below advertisement
"I gave some guy one list," he said, apparently referring to the bombshell GQ interview. "You say, were they mad at you about that list? They were mad at me." Indeed, A&E briefly suspended him from the hit show.
"You say, why'd they get mad at you?" he continued. "'Cuz instead of acknowledging their sin, like you had better do, they railed against me for giving them the truth about their sins. Don't deceive yourselves."
He shouted, "You want the verse? The news media didn't even know it was a verse! They thought I was just mouthing off. Is homosexual behavior a sin? The guy asked me. I said, do you not know that the wicked will not inherit the kingdom of God? Don't be deceived."
"Neither the sexually immoral, nor the idolators nor adulterers nor male prostitutes, nor homosexual offenders, nor thieves, nor greedy nor drunkards nor slanderers nor swindlers will inherit the kingdom of God," Robertson blasted, paraphrasing a verse from Corinthians in the Bible.
Article continues below advertisement
Could this new homophobia scandal be the final nail in the coffin of the struggling show? As RadarOnline.com has reported, the show recently saw a 40% drop in ratings, bringing the total number of viewers watching the show to the lowest levels since February 2012.
The show is scheduled to begin its sixth season on June 11, but whether that date will be affected by the release of this latest video remains to be seen.
WATCH the disturbing video below and let us know, do you think A&E should allow Robertson back on air after this latest rant?
youtube=https://www.youtube.com/watch?v=YhnxDSOxfss&w=560&h=315