Exclusive
Is 'Duck Dynasty' Dunzo? Show Popularity, Ratings Have Plummeted Since Homophobia Scandal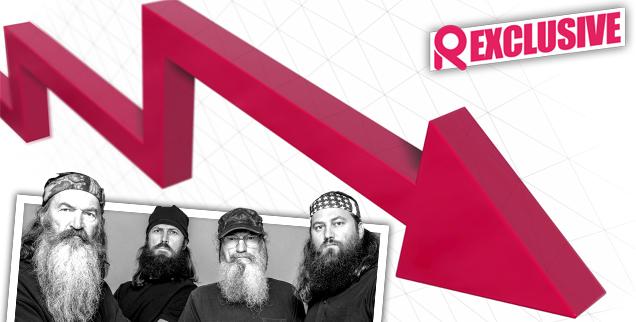 Article continues below advertisement
Records of Q scores for both Duck Dynasty and Robertson -- the industry's ratings system for a celebrity's popularity -- show that both have taken a hit since his homophobia scandal.
At this time last year, the show had a positive Q score of 32. Now, it's just 26. That represents a nearly 20% drop. In addition, the negative Q score went up from 19 to 20.
Interestingly, it appears that women may have been more offended by Robertson's remarks, since that segment shows the greatest drop in show popularity: from 38 to 27, or 29%.
As for Robertson himself, the data is even more striking. He dropped 34% from 32 to 23 points. Looking more closely, he went from 27 to 20 or 26% down with men, and from 36 to 25, or 31% down with women.
This obvious decline in popularity has also been reflected in the show's ratings as of late. Once a powerhouse, the series brought in its lowest ratings since 2012 in late February -- a 40% drop from its ratings that same week one year ago.
The decline comes on the heels of Robertson's homophobia scandal, when he likened homophobia to bestiality in a GQ magazine interview and suggested that reports of racism in the Jim Crow era South were exaggerated.
Are you still watching Duck Dynasty or do you think the show has run its course? Let us know in the comments!